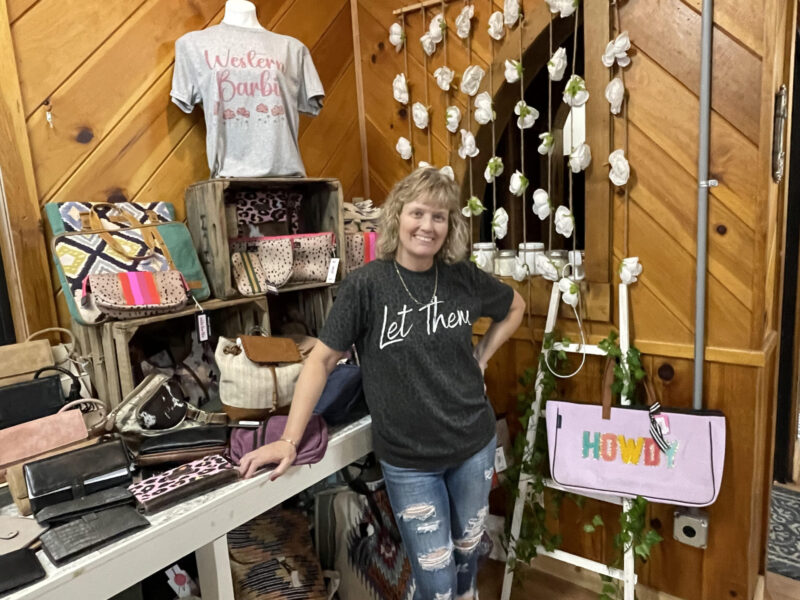 BY MIKE FUHRMAN
In a short amount of time, Lisa Rogers has turned Southern Clothing & More, her boutique in Union Grove, into a successful business.
Her customers appreciate the variety of high-quality clothing and accessories – including brands that you wouldn't expect to find in rural northern Iredell County — and the reasonable prices.
"We're boujee on a budget," Rogers explained.
While business is brisk out front, there's also a party in the back on Saturday nights from April through the end of October at Backstage in the Grove, an outdoor venue that draws crowds of 150 to 200 for live music and drinks.
Rogers has built her business slowly. What started as a bit of a side hustle while she worked full time at Iredell Memorial Hospital has grown organically to include two shops and her mobile boutique, a 30-foot RV named "Miss Daisy." She began selling desserts out of Merchants on Main in Taylorsville in 2014 and then branched out into T-shirt sales. She had her first "pop-up sale" at Iredell Memorial in 2016 and was sold $14,000 worth of merchandise.
"I was hooked," she said. "I was like, 'Hmm. There might be a little something to this.' "
In 2018, after her mom suffered a stroke, Rogers resigned her position at the hospital so she could be her caregiver – and focus on growing her business.
The COVID-19 pandemic threw her a curveball in 2020. When she saw the space previously occupied by Gunters in the Grove was available in August of that year, she contacted Angie Lyles and Tim Gunter about leasing the space.
"It was a leap of faith," she said. "I was so nervous."
Over the past three years, she has built a diverse business, adding a second shop in Elkin and growing her mobile business to about 20 events per year. Internet sales now account for about 10 percent of her revenues.
The boutique has a T-shirt bar, casual clothing for women of all ages and sizes – including "shorter stuff" for the younger generation. There are Judy Blue and Cello jeans, bags by Myra, Taylor Gray and Sixtease, and roma boots. There's also a selection of shirts, hats and shoes for men. And there's coffee and wine.
Her daughter-in-law, Analese, is her right-hand woman, and her 6-year-old granddaughter, Harper, loves ringing up customers.
The support of her customers, Rogers said, has been incredible.
"I love being here," she said. "I love this community. I have made a lot of friends. I hope to be here for a very long time with a lot more friends."
Backstage in the Grove
Rogers' outdoor venue, Backstage in the Grove, hosts live music from 7 to 11 p.m. on most Saturdays. Most of the acts are country with an occasional rock band in the mix.
Initially, the space was used for birthday parties, bridal showers and other private gatherings, but Rogers decided to throw a Halloween Party in October 2022. More than 100 people came so she decided to book live music during the warm weather months.
"It grows every week as more and more people hear about it," Rogers said.
It's a nice outdoor space with a solid stage, bar and a seating area. With the grassy hillside, the venue can accommodate up to 500 people.
Although Rogers offers beer and wine (and Jello shots, if that's your thing), she is adamant that she's not running a bar. That's because she doesn't want a bar crowd – and the problems associated with bars.
"It's not a bar," she said. "I want it to be an outside music venue where you can come and listen to music and have a few drinks if you choose."
In June, for Rogers' birthday, the Kings of Noise took the stage, belting a mix of tunes from the 1980s that included hits by Loverboy, Bon Jovi, Reo Speedwagon and more. There was birthday cake for everyone, and the band welcomed Rogers and a couple of other celebrants to the stage.
Rogers estimates she knew more than half of the people there – and Boone, her 15-month-old grandson, helped work security.
That emphasis on family and friends has been at the heart of Rogers' business success.
Rodney, her husband of nearly 23 years, has supported her every step of the way – from building a workshop to flying to Pennsylvania to pick up "Miss Daisy" and pitching in when she was sidelined by COVID-19.
"My husband supports me 100 percent and spoils me 1000 percent," Rogers said. "He never gets a day off because of me."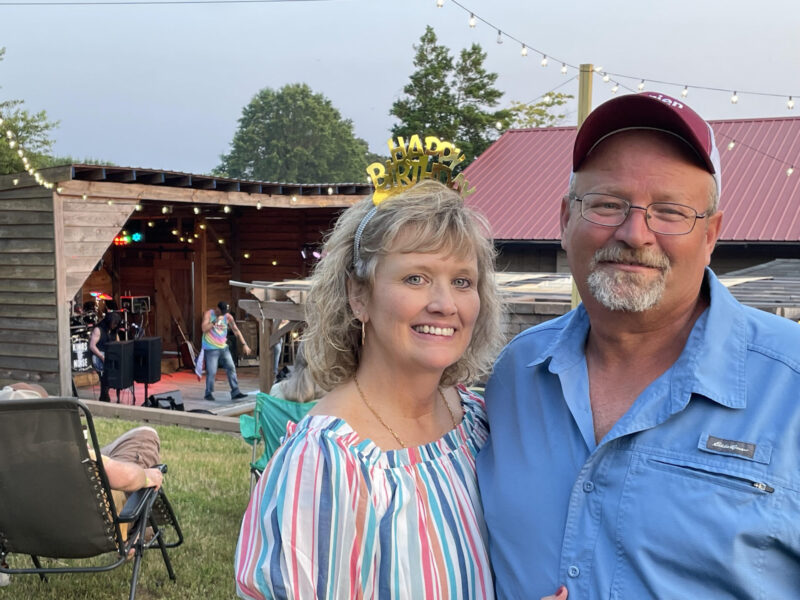 Upcoming Shows
AUGUST
12 – Deacon Black
19 – Black Glass (Jeep Cruise In)
26 – Opal Moon
SEPTEMBER
9 — Ali Randolph
16 — Marques Pucket & 8 Second Ride
23 — Deacon Black
30 — CJ Ballard Band
Editor's Note: This article was originally published in the July edition of "IFN Monthly."