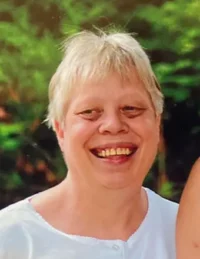 Patricia Riggs Upright, 61, passed away August 7, 2023.
Patricia was a beloved wife and mother. She deeply loved her grandchildren, and they brought her much joy and happiness. She will be remembered for her kind and generous nature by friends and family.
She was preceded in death by her mother, Virginia; father, David; and her brother, Bill.
Patricia is survived by her husband, James Upright; along with their daughter, son-in-law, and three grandchildren.
A memorial service will be held at 10 a.m. on Sunday, August 13, 2023, at Nicholson Funeral Home.
Nicholson Funeral Home is serving the family.