FROM STAFF REPORTS
Nearly seven months after a fire ravaged buildings in the heart of the historic downtown, the Statesville City Council approved the demolition of three structures — with conditions.
The three buildings, located at 101 and 104 South Center Street and 109 West Broad Street, would be demolished over the span of two months, contractors G.L. Wilson Building Co. and Terry Lynn Asbestos Environmental Demolition stated in the request to the council.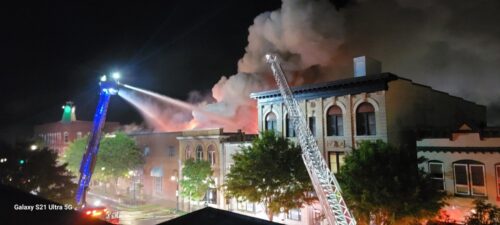 The owners of the properties are WCSK LLC, Plyler Properties Incorporated, and Off Center LLC.
The demolition, which would likely begin in January, would leave an empty hole with the basements exposed, and during the process, sidewalks would be covered with protective plywood and an 8-foot chain link fence would be erected along South Center Street.
Under conditions set by the council, the owners will have to return to the Design Review Committee (DRC) within six months with an update of future plans for the properties and change the chain link fencing within a year to comply with the Unified Development Code.
The DRC noted that there was not a reuse plan submitted, which is typically required. When asked by council member Kim Wasson why the reuse plan was not provided, city planner Marci Sigmon said "Staff asked and asked and asked … 'What's going to happen? What will be done?' We didn't receive anything."
Mayor Pro Tem David Jones, who is a partial owner of the property at 109 West Broad Street, said "We don't know what the plan is. We have to demo to know where we are and what we have to deal with. It's a safety issue."
Jones recused himself from the vote on the issue. Mayor Costi Kutteh, who owns one of the other properties, also agreed not to take part in the discussion.
According to city code, the council has the right to waive DRC standards during emergency situations.
Concerns were also raised about the stability of the basement walls as bracing for infrastructure, and the potential for pooling water in the open basement spaces. A contractor for the project said these questions could be best answered after demolition, as the buildings in their current state are not safe enough for further structural review.
$42 Million Development Considered
After much heated debate, the council approved in a 6-2 vote a Master Development Agreement (MDA), lease agreement and creation of a Downtown Development Project for a $42 million multi-use development downtown.
Before that vote, council member Steve Johnson proposed voting down the MDA, and instead only approving funding for the expansion of the police department. Council member C.O. Johnson seconded that proposal. Both opposed the project in part due to the taxpayer funds that would be used for the parking deck. The motion failed 6-2.
The MDA and the Lease Agreement between the City of Statesville and the David E. Looper Co. (DELCO) is to renovate and expand the Statesville Police Headquarters, construct a multi-level parking deck with 315 spaces, and allow for the sale of a city-owned property for the construction of a 126-unit, market-rate apartment building. The SPD expansion would be in Phase 1, and the apartments and parking deck would be constructed in subsequent phases.
The plan calls for selling just over one acre of city-owned property that fronts Sharpe Street, which is currently used as a public parking lot, and demolition of the Parrish Tire Building (150 East Front Street), Price's Auto (128 E. Front Street), and the old Walker Insurance Building (124 E. Front Street).
Total cost for the project is estimated at $42 million, with 62 percent ($26 million) in private funding and 38 percent ($16 million) in public funding, Statesville City Attorney Leah Messick said.
Noting there is a shortage of residential rentals in Statesville and the potential economic boon from having more residents downtown, Downtown Statesville Development Corporation Executive Director Brittany Marlow spoke in "exuberant" support of the project.
"This development would increase the number of people downtown, and the vibrancy. This investment would not be just into this space, but the rest of downtown as well," she said. "That will bring money that will be spent in our downtown and help to recruit new businesses to downtown."
Also speaking during the public hearing was Julia Wilson of G.L. Wilson, who commented on the city's plan not to open the project to bids.
"We are committing millions of taxpayer money without competition," Wilson said.
OTHER BUSINESS
In other business, the council:
♦ Approved first reading of a rezoning request for a 51-acre property located on Wallace Springs Road, between Old Mountain Road and Arey Road, from Iredell County RA to City of Statesville R-8. The property is the site of phase two of the Wallace Springs subdivision and is proposed to be 152 single-family homes.
♦ Approved first reading of a conditional rezoning request for properties located on Wilkesboro Highway and Northside Drive, between Interstate 40 and Quarry Road, from B-2 (Neighborhood Business) & B-4 (Highway Business) Districts to B-5 CZ. Crush It Holdings, LLC specializes in nutritional supplements and training bodybuilders. The company currently owns land off Wilkesboro Highway, between Interstate 40 and Martin Marietta, which houses a training facility and offices. They are purchasing the three adjacent parcels to expand their business. Once the 15.94 acres are combined and rezoned, the development would occur in four phases, with most of the construction starting the second and third year after rezoning. The portion of the property that fronts Wilkesboro Highway would be retail, with the back portion set aside for three buildings to be used for warehouse and office space.
♦ Approved a conditional rezoning request for properties located between Wall Street and McLaughlin Street, Statesville, from R-15M (Urban Fringe Low Density Residential/Manufactured Housing) and R-5M (High Density Single Family/Manufactured Housing Residential) Districts to R-5MF CZ (High Density Multi Family Residential Conditional Zoning) District. The proposed project site is on approximately 61.28 wooded acres located near Wall Street. The conditional zoning request is to amend the zoning to allow a 294-lot residential development with 124 single-family homes, 72 paired homes and 98 townhomes. The project also plans for 20 acres of open space and a greenway easement. During the public hearing on the project, several residents questioned whether affordable housing would be available in the development. The developer, West Hunter, stated that he anticipates the cost of housing in the development will start in the $250,000 range.
The council voted to approve the following items on the consent agenda:
♦ The addition of one full-time Airport Line Technician to the airport staff.
♦ A resolution directing the city clerk to Investigate a Petition of Annexation for property located on Wallace Springs Road owned by Giant Oak LLC (Wallace Phase II), and set a date of December 4 for a public hearing for the petition for annexation.
♦ A resolution directing the city clerk to Investigate a Petition of Annexation for the James Farm Mini-Storage property located on James Farm Road, owned by Fort Dobbs LLC, and set a date of December 4 for a public hearing for the petition for annexation.
♦ A resolution directing the city clerk to Investigate a Petition of Annexation for property located at 211 Marble Road, owned by 1SourceProperties LLC, and set December 4 for a public hearing for the petition for annexation.
♦ A resolution directing the city clerk to Investigate a Petition of Annexation for the Faw Property (Statesville Gateway) located on Turnersburg Highway, and set December 4 for a public hearing for the petition for annexation.
♦ Second reading of the Development Agreement for Statesville Gateway Planned Unit Development for properties located on US 21 North (Turnersburg Highway).
♦ A resolution declaring that a portion of Berkshire Drive (known as the Berkshire Drive Extension) is not a part of any adopted city street plan and approving a Withdrawal of Sanitary Sewer Easements not used by the City of Statesville.
♦ A request from Kathy Godley to allow her to drill a well, in lieu of using city water service for domestic purposes. The property is located along Interstate 77, which has frontage on Odessa Road. The proposed use of the property is to construct two or three large (250,000 square feet or more) distribution/industrial buildings.
Public comments
Two citizens — Lisa Mozer and Karen Keaton — spoke in support of the Black Historical District in Statesville.
Mozer called for city officials to "support cultural diversity and elevate Statesville's Black Historic District in 2024."
Keaton also urged that the district be supported. "When we talk about the Black Historical District, it's just the right thing to do morally. We all came together making this town what it is. To keep back our history from our children is just wrong," she said.
William Summers called for the N.C. Department of Transportation to install guard rails on Davie Avenue on Fern Creek Bridge.
"I am 72 years old and I hope and pray I will see some safety guardrails before I leave this side of the ground," he said.