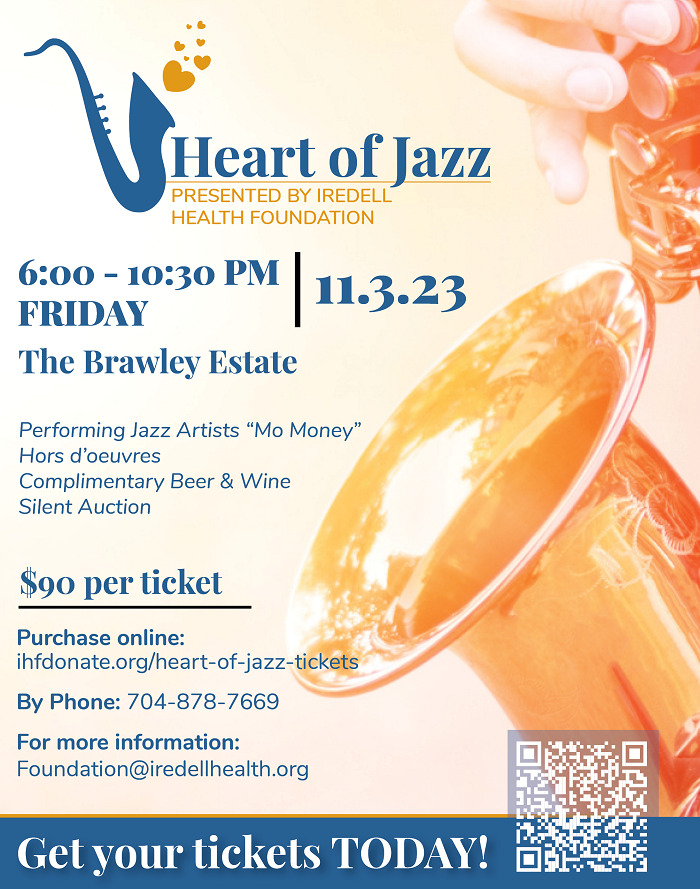 Special to Iredell Free News
Did you know heart disease is the second leading cause of death in Iredell County? In fact, over 18 percent of premature deaths in Iredell County are due to heart disease.
This year consider giving your local community the gift of heart health by purchasing your ticket to Iredell Health Foundation's second annual Heart of Jazz, benefitting the Cardiac & Vascular Care Fund for Iredell Health System.
By purchasing a ticket, you're not just reserving a seat – you're saving lives and strengthening hearts in your own community.
As the only accredited chest pain center in Statesville, Iredell Memorial Hospital's Heart & Vascular Center offers the community a full range of high-quality, personalized heart and vascular care. In addition to the Heart & Vascular Center, Iredell Health System serves its community by offering cardiovascular services through Iredell Vascular Clinic, Iredell Cardiology, Statesville Cardiovascular Clinic, and a cardiopulmonary rehabilitation program.
Proceeds from Heart of Jazz support the purchase of new cardiovascular equipment, provide patient assistance, and expand cardiovascular service offerings for the community.
Last year the funds raised from Heart of Jazz went to purchasing a new EKG machine for Statesville Cardiovascular and sponsoring ZOLL LifeVests for Iredell Memorial Hospital's Heart & Vascular Center patients. Proceeds also supported patients who were unable to afford cardiovascular services.
"The new EKG machine has been wonderful. It has significantly reduced waiting times for patients and allowed for more people in the community to be tested," said Tammy Rhyne, medical office assistant at Statesville Cardiovascular Clinic.
"Proceeds from Heart of Jazz provided the LifeVest system to two patients who did not have the financial resources to secure this life saving device. This technology is a jacket that is worn by the patient which is capable of monitoring the patient's heart rhythm, and if needed, can deliver a treatment shock to save their life," said Skip Meador, director of cardiovascular Services at Iredell Health System.
Heart of Jazz will take place from 6 to 10 p.m. on Friday, November 3, at The Brawley Estate in Mooresville.
The event will feature live musical performances by Mo Money, a five-piece jazz band comprised of top studio musicians, songwriters, and producers — all of whom have national performance and recording credits. Mo Money is also the Carolina Panthers' house band for every game. In addition, the Heart of Jazz will have a silent auction, a cash bar, and hors d'oeuvres. You can learn more about Heart of Jazz at heartofjazz.org.
Tickets
Tickets are required for all attendees. Heart of Jazz tickets are $90 per person. Purchase your tickets online at IHFdonate.org/heart-of-jazz-tickets
To purchase by phone, or for more information about the event, please call the Iredell Health Foundation office at 704-878-7669.
About Iredell Health Foundation
The Iredell Health Foundation is a 501(C)3 nonprofit organization responsible for philanthropy for Iredell Health System. It supports the system's programs and services through donor-centered fundraising. The Foundation focuses on raising community awareness of specific programs that need funding and provides individuals and organizations hoping to make a difference and leave a legacy the opportunity to support local healthcare needs of their choice. To learn more, or to make a donation, visit www.iredellhealthfoundation.org or call 704-878-7669.