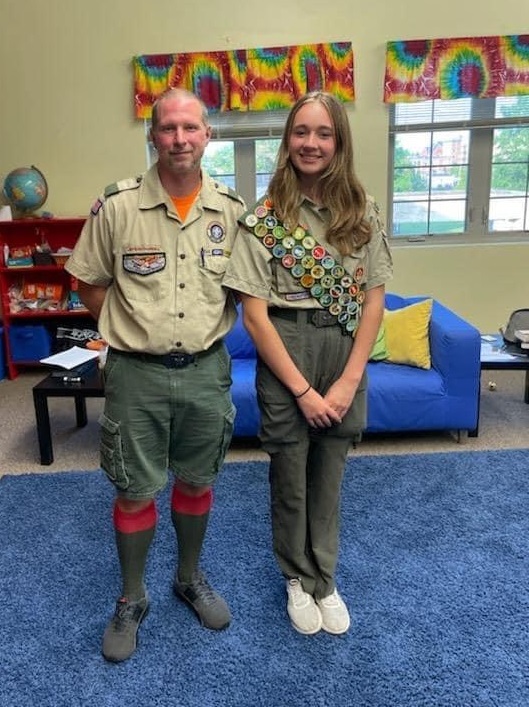 Special to Iredell Free News
North Iredell High School junior Piper Lewis successfully completed her Scouts BSA Eagle Board of Review on May 23, making her the first female Eagle Scout for the Gemstone District, and Troop 1314.
Scouts BSA, formerly known as Boy Scouts of America, changed its name and opened the program to female Scouts in February 2019, when Troop 1314 formed in Statesville. Troop 1314 was the first girl troop in the Gemstone District (all of Iredell County) and one of the first girl troops in the Scouts BSA Piedmont Council.
Piper, 17, is one of the founding members of the Troop. She is the daughter of David and Sonja Lewis.
Like all other Scouts intent on the goal of Eagle Scout, Piper had to work through seven different ranks with various skill and community service requirements. The requirements for boys and girls are the same, consisting of a mix of service hours and lessons on camping skills, ethics, "leave no trace"
principles and professional skills exploration.
Piper has taken on several leadership roles in the Troop, from Quartermaster to Senior Patrol Leader. She has been on several overnight and weeklong camping trips.
Last summer, Piper completed one of the high adventure courses that Scouts BSA offers at Philmont Scout Ranch, located in Cimarron, N.M. Along with two crews of Scouts and adult leaders from Iredell County, Piper completed over 100 miles of backpacking in the Sangre De Cristo mountains. This summer she will be attending another high adventure course in Summerland Key, Fla., at the Scouts BSA Sea Base, Brinton Environmental Center. Piper will be conducting environmental surveys, and collecting data, with other Scout volunteers.
One of Piper's greatest challenges as a founding troop member was not having an older Scout mentor to guide her to Eagle; as a new charter, the members and adult leaders of Troop 1314 learned on the fly.
Now the other girls in the Troop – and other local female Scouts – have a solid mentor for their Eagle journey. For her final Eagle project, Piper chose to help Paws and Claws Feline Rescue by creating Kool Kitty Kabins out of old coolers to provide winter shelter for cats at one of three protected feral cat
colonies in the Statesville area. Piper also helped Paws and Claws by educating local elementary school children on the benefits of Trap, Neuter and Release to limit a colony from growing.