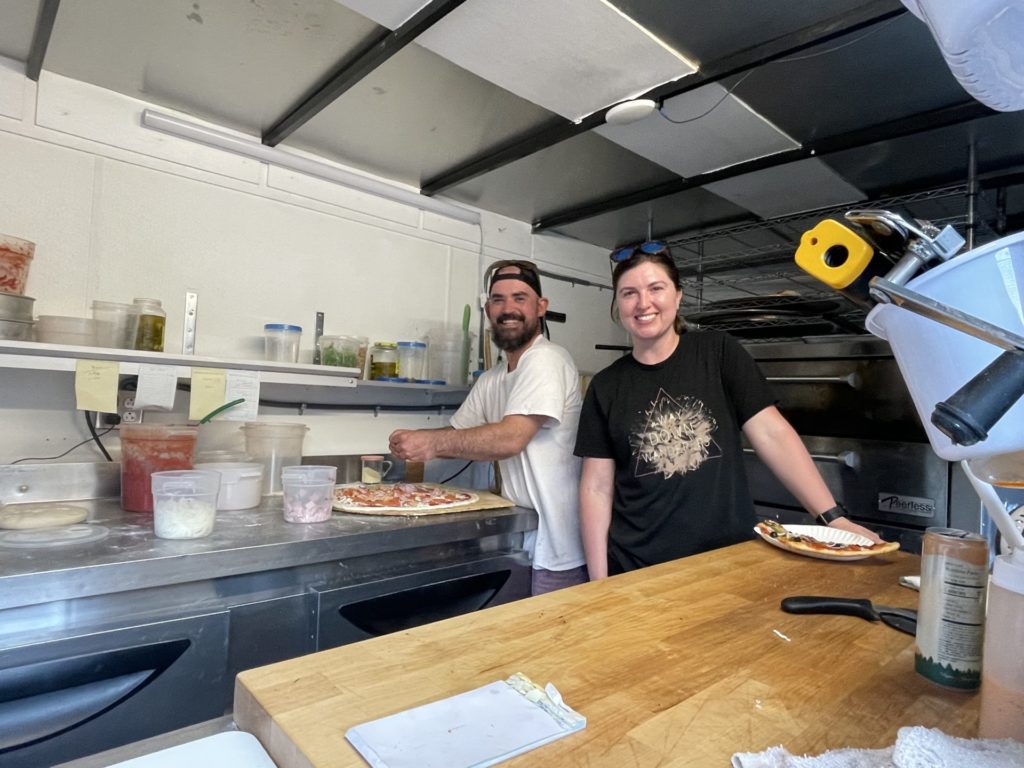 BY MIKE FUHRMAN
Michael Standish worked tirelessly for 18 months — in his spare time — to transform a trailer into Foxy Roxy's Pizza Truck.
After tackling the electrical work, plumbing and gas line, he turned to an expert for help installing the 900-pound pizza oven. Then Standish set out to create a menu of tasty New York-style pizzas that could be served up hot in a matter of minutes.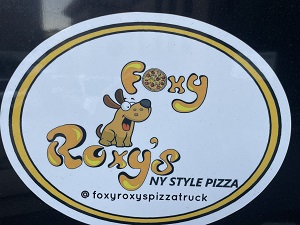 When Foxy Roxy's opened for business on St. Patrick's Day in 2022, Standish admits he was a bit anxious.
"I couldn't believe how nervous I was," he said. "I was nervous about creating something and asking people to pay for it."
Since that first night, when Standish set up across from Wine Maestro in Downtown Statesville, he's been making (and kneading) a lot of dough. During a good week, he sells 150 pizzas at that location and on the campus of Mitchell Community College.
Foxy Roxy's offers six different pies — Cheese, Pepperoni, The Triple Wide (ham, sausage and pepperoni), Veg Out (onions, mushrooms, green peppers and black olives), Ja Junk (everything) and Cheeseburger Pizza. You can grab a slice or buy a whole pie. Sodas and water cost a buck.
Standish is a veteran of the food service business. Locally, he's worked at Captain's Galley, Broad Street Burger and Logan's Roadhouse. A graduate of North Iredell High School and N.C. State University, he's now working for himself.
And he knows what he's doing – and what it takes to be successful. Rule No. 1, he said, is keeping your regular customers happy.
In the pizza business, quality ingredients are essential to success. Standish attributes the "fresh garden taste" of his pies to his locally sourced veggies and the high-quality ingredients from Cheney Brothers. He makes his dough from scratch every day.
The Cheeseburger Pizza is a unique creation you won't find elsewhere. The tomato sauce, ground beef, white onions, and dill pickle chips are topped with thousand island dressing and mustard. The result transcends pizza.
"It really reminds you of a Big Mac," Standish said. "You get that nostalgia feeling. I think it's the hot pickles."
Before beginning this venture, he did his homework. About 60 percent of food trucks fail, he said, because the owners take on too much debt. That's why Standish built his own food truck and why he's building his business organically.
The business was named after Standish's pup Roxy, who died three years ago. "She was my best friend," he said. "She lived a very happy life. She ate a lot of pizza."
One of his best days of his business life came last fall, when he set up Fox Roxy's at the Disc Golf Pro Championship in Charlotte. Standish is an avid disc golfer himself and enjoyed the chance to combine his hobby with a little work.
"You see the best in your world – and they're eating your pizza," Standish said.
Today, he's eyeing a possible expansion into other communities. Standish is also considering opening a brick-and-mortar pizzeria in Downtown Statesville.
"That's my home away from home," he said.
Follow Foxy Roxy's Pizza Truck on Facebook @foxyroxypizza.
Editor's Note: This article was originally published in the May edition of "IFN Monthly."