BY DEBBIE PAGE
The Troutman Town Council has approved the annexation and highway business zoning for just over 40 acres, located between Lowe's Home Improvement store and the 18-acre Food Lion shopping center site approved in June of last year.
The site, composed of 21 small properties owned by six owners, was gradually assembled over the last 20 years, according to Piedmont Landco representative Howard Bryan. Most of the property was already zoned for business use in Iredell County.
There are no specific plans for the site right now, Bryan said.
The Planning and Zoning Board unanimously recommended the annexation and HB zoning in June.
The council, chaired by Mayor Pro Tem Paul Henkel in the absence of Mayor Teross Young, approved the requests by a 4-0 vote during Thursday's meeting. Felina Harris absent.
WATSON HONORED AS EMPLOYEE OF MONTH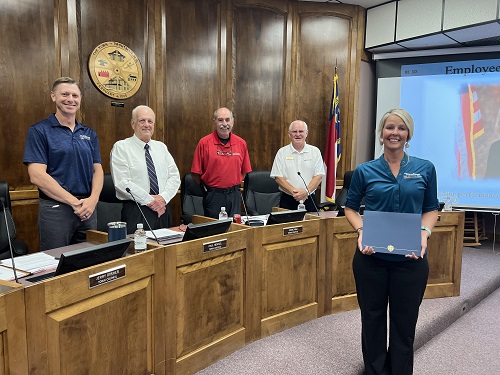 Parks and Recreation Director Emily Watson, June's Employee of the Month, oversaw four major events, along with her small staff, in June. Town Manager Ron Wyatt commended Watson's professionalism, leadership, work ethic, and humble nature.
Wyatt praised her "recipe book" for events that is constantly revised after each event to improve organization, performance, and future success.
Wyatt also noted that the Independence Day parade is a months-long process requiring extensive work. He commended Watson's ability to rally staff and volunteers to pull off this event each year.
The department has several upcoming events, including the July 21 Party in the Park, summer basketball camps (at SIHS July 17- 20 for 2nd, 3rd, and 4th graders and July 24-27 for 5th, 6th and 7th graders), a baseball camp (July 31 – August 2 for 1st – 6th graders at SIHS baseball field), a soccer camp (ESC Park August 7 – 11) for 6 -17 year-olds, and a new pickleball session (Town Hall) beginning in August on Saturday mornings.
Contact Watson at ewatson@troutmannc.gov for more information or follow events on Facebook at https://www.facebook.com/TroutmanESCPark.
GALLIHER SERVICE HONORED
Randy Austin Galliher, Troutman Public Works water technician, was honored for his 23 years of service as he retires from full-time employment with the town. A resolution passed by the council recognized Galliher's reliability and dedication, his selfless service and pride in his work, and his long work hours, especially in times of emergencies.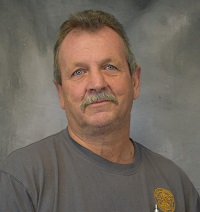 "He was known for his impressive skill set and abilities to get the job done, helping to benefit co-workers and the public, contributing his knowledge of the system and hard work to the citizens of the Town of Troutman," said Henkel.
Galliher was not present due to an unforeseen emergency calling him out of town. He will receive a Troutman Chair Co. rocker with a plaque honoring his service upon his return.
Wyatt said he will continue to work for the town part-time in areas that require the special certifications that Galliher possesses.
ESC PARK RENOVATIONS
The beach volleyball courts at ESC Park will get an upgrade thanks to Lowe's Home Improvement and some of its vendors beginning on August 7. The week-long project, with assistance from Parks and Recreation staff, will include new sand, turf, drainage, grading, and equipment.
Watson also said the Bermuda grass restoration, the first in nine years, is going well. Additional fertilizer was applied last week, and Watson expects the fields to reopen in a few weeks. The project necessitated closure of the soccer and baseball fields this summer,
PET PANTRY
Watson announced that installation of Juliette Scout Layla Sudol's pet pantry project, to be located by the Blessing Box in the Town Hall parking lot, will begin July 19.
The box, approved by council last November, will be painted in Troutman colors and will be similar in size to the Blessing Box with deeper shelf space to accommodate pet food bags and cans.
The pet pantry will be recognizable through the addition of paw prints or animal images.
Sudol will ask stores, schools, clubs, and community members to contribute food to the pantry. She will also hold fundraisers to purchase food, if necessary.
The theory is that people in need can take food and those who can will donate food to help keep community pets well-fed and healthy.
The box will also have a QR code that will connect to a Pet Pantry Facebook page on which community members can relay information or get donation information.
PASSPORT OFFICE
The new location for the passport office, the former insurance office next to Truist Bank, should open in the next few weeks. Wyatt said they are waiting for new signage before moving into the new location.
Wyatt said the part-time operation of the passport office in the Planning Department facility has already earned the town $10,000, so the services are expected to be self-supporting for staff and facility costs.
Wyatt said the town will have an official grand opening ceremony when the new facility begins operation.
POLICE REPORT
Police Chief Watson praised his department for its service to the Troutman community.
From June to January of this year, Watson said the department had a 46 percent increase in service calls over the same period last year.
Watson reported a 75 percent increase in calls for domestic disputes, 3 percent for assaults, 66 percent for traffic crashes (roads and parking lots), and 37 percent for arrests.
He was pleased to announce a 75 percent decrease in sexual assault calls and 45 percent decrease in fraud offenses.
The officers' proactive traffic stops of suspicious people has resulted in an 89 percent increase in narcotics offenses and 137 percent for DWIs. He attributed the increases to officers' stopping more cars and coming across more offenses.
To engage with the community, the department is hosting its annual National Night Out event at ESC Park on Tuesday August 1 from 6 to 8 p.m. The event will feature area law enforcement and emergency agencies and other vendors as well as kids' activities and free food.
OTHER BUSINESS
The council also approved:
♦ Closing of Eastway Drive for the SIHS Homecoming Parade on September 5 at 6:30 p.m.
♦ Raising the 1-inch pipe water meter fee from $315 to $500 because of rise in meter cost.
♦ A second amendment to the interlocal agreement between the Town of Mooresville, The Town of Davidson, The Town of Troutman, The City of Statesville, and the County of Iredell creating the Lake Norman Regional Transportation Commission to terminate the commission on June 30, 2025, unless the current parties vote to extend the term.
♦ Adoption a resolution to accept $225,000 in American Rescue Plan (ARP) Grant funding for the clay pipe sewer system inventory and assessment project.
The council also:
♦ Set an August 10 annexation hearing for Sterling Properties of Mooresville (49.54 acres) located west of Autumn Leaf Road and east of Quail Haven Drive. MI Homes wants to build a 91 single-family home development on the site. The project will undergo Planning and Zoning Board consideration on Monday, July 24, at 6 p.m. at Town Hall.
♦ Set an August 10 annexation hearing for Barium Springs Home for Children (75.597 acres).
♦ Set an August 10 public hearing for an annexation boundary agreement between the Town of Troutman and City of Statesville.
♦ Heard citizen concerns about traffic blocking fire department operations at rush hours and the frequent knocking down of the crosswalk signs on Wagner Street.
♦ Heard citizen concerns about recently passed restrictive feather flag regulations.