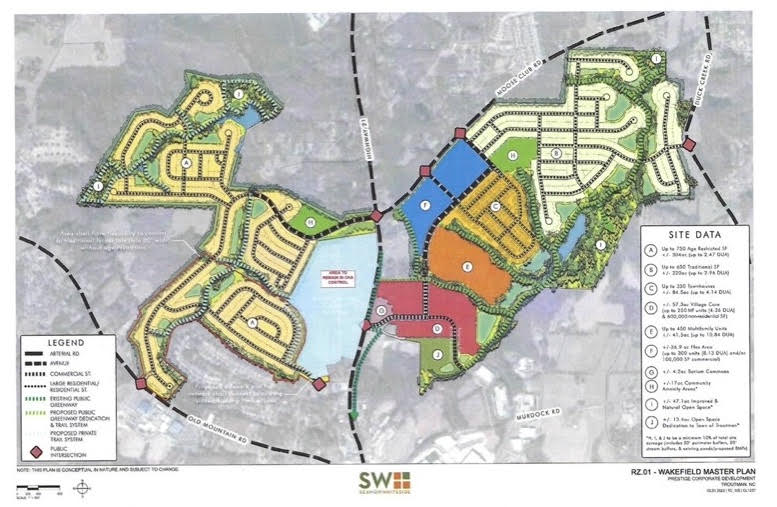 BY DEBBIE PAGE
The Troutman Town Council on Thursday unanimously approved a development agreement between BBC Wakefield LLC, Barium Springs Home for Children, and the town for 774.31 acres to be developed as Wakefield Village, a mixed-use development with frontage on U.S. Highway 21, Moose Club Road, Duck Creek Road, Barium Lane, and Old Mountain Road.
Hair said the state granted local governments the right to enter contracts with developers for large projects to specify the rights and obligations of both parties if included in their Unified Development Ordinances.
The contract includes permitted uses and densities, a development schedule, transportation improvements, infrastructure requirements, including water and sewer capacity reservations, greenway easements and trails, donation of land for public use, all agreed upon conditions of the zoning approval, and a town-approved concept plan.
When the project was approved by the council in September of 2022, Prestige Development President Steve Bailey said the 20-year revenue projection resulting from the development will reach $142.7 million, with costs to the town for infrastructure maintenance and general and emergency services only reaching $39.8 million, a $102.9 million financial gain for the community.
Bailey said the residents of Wakefield are projected to inject $336 million in spending in the area, benefiting businesses in Troutman and surrounding areas. The project is also expected to create 1,500 jobs through the new businesses located in the commercial sections of Wakefield, planned to be larger than the Birkdale development.
The development plans include 750 homes in an over 55 age-restricted community with luxury amenities on the west side of U.S. 21 and 650 single-family homes, 350 townhomes, 250 age-restricted apartments, and 750 apartments on the east side.
The number of apartments could be reduced by up to 300 in the 37-acre flex area if it becomes an additional commercial/office-institutional area. In an agreement brokered with Town Planer Lynne Hair and council members, this area is now designated as a commercial or mixed use area, of which at least five acres must be commercial if developed as mixed use and limited to no more than 300 apartments in the residential portion.
The town will receive 13.4 acres near the fairgrounds area to build a community amenity of its choice.
The developers agreed to complete the residential areas and the minimum 200,000 square feet of commercial, institutional, and recreational uses in 20 years, with the town providing necessary utility and emergency services.
RECOGNITIONS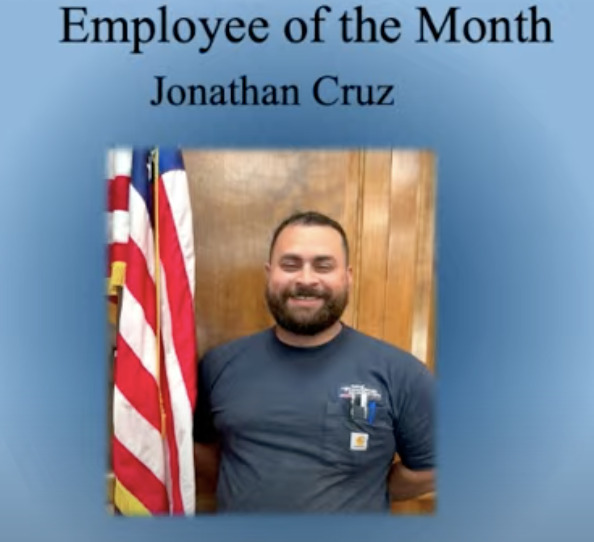 Jonathan Cruz, the first full-time mechanic for Public Works, was named Troutman Employee of the Month. Public Works Supervisor Austin Waugh said Cruz, who is responsible for 43 vehicles, 15 pieces of large equipment and 17 generators, has exceeded expectations by reducing vehicle down time and saving the town money, all with a smile and great attitude.
Mack Sutton and David Kenworthy from the Public Works Department were honored as Good Samaritans for saving the life of a child who wandered from home on September 21. They observed the child darting through traffic on Highway 21, stopped and rescued the child, and contacted the police department to help get him back to his parents.
Town Manager Ron Wyatt said "the town is lucky to have employees who care about their community."
LIBRARY REPORT
Troutman Library Manager Tamra Hicks reported 33,000 visitors to the facility from May through September, including 84 programs for kids (2,200 attending), nine teen programs (90 attendees), 20 programs for adults (200 attendees), and 1,000 computer lab users.
During the Summer Reading Program, the staff prepared and distributed 3,000 "take and make" kits in addition to awarding prizes for all age groups for completed reading logs.
The staff is starting a new story time and craft session for children 5 and under on the third Saturday each month at 11 a.m. They also will participate in the Trails and Treats event on October 31 and will have a Troutman Christmas parade unit on December 2.
On December 7, the staff will host the annual holiday party from 2 to 4 p.m. The Monday Night Pickers will be performing at the event.
Hicks said the staff works to make the library more inviting and useful for patrons. She also praised the adult volunteers who shelve books and help with programs.
"We couldn't do it without these people," she said.
PARKS AND RECREATION REPORT
Parks and Recreation Director Emily Watson reported strong donations to the free Halloween Swap Shop event, which took place on October 13 in preparation for two Halloween-themed events this month.
The annual Trails and Treats will take place from 4 to 6 p.m. on October 31 along the Fit Trail at ESC Park. Watson said 50 businesses and organizations were already signed up to distribute treats to the expected 2,000 children attending the event.
The Wicked Fast 5K and 1 Mile Fun Run will be on Saturday, October 14, at 6 p.m. Watson said folks can sign up to participate up to five minutes before race time. Participants are encouraged to dress in their Halloween costumes for this family-friendly event.
The town is partnering with the Rotary Club of Troutman to collect non-perishable food for those in need this holiday season and asked that participants at both events help.
"If everyone brought just brought one can, it would have a huge impact," she said.
Watson will have collection boxes for canned goods/non-perishables at each event.
Applications are also now being accepted to participate in the Troutman Christmas Parade on December 2. Thirty entries have already come in for the 11 a.m. parade that moves from CATS down Old Murdock Road and then along Eastway Drive to Troutman Baptist Church.
Applications are available at Town Hall or online at https://www.troutmannc.gov/index.asp?SEC=7CAF6BBC-C95B-42B3-8210-F8801B2B713F&DE=C2EE719E-4BF3-442E-933A-1466C41F69C0.
Watson also announced that the online registration system for Troutman Parks and Recreation activities will be live in January. Training and information will be available on the town's website in December.
OTHER BUSINESS
The council also unanimously approved:
♦ A resolution of support for applying for CRTPO discretionary funding ($5,546,770.63) to improve the North Main Street/Murdock Road/Old Mountain Road intersection and offering a 35 percent match (about $2 million of town funds) to improve the chances of winning the grant. Council members plan to contact Wakefield developers, who must complete improvements to this intersection as part of its traffic impact analysis commitment, to discuss contributing toward the town's grant match.
♦ Reappointment of Tonya Bartlett as an Inside Alternate Member of the Planning and Zoning Board for a three-year term (term expired 9/14/23).
♦ An annexation agreement between the Town of Troutman and the Town of Mooresville, which includes adding Troutman ABC Board property and another property at the southern entrance to Flower House Loop at U.S. to Troutman's jurisdiction.
♦ An annexation and rezoning request by Jabula Properties LLC for 3.5 acres at 269 Houston Road to light industrial.
♦ A facade review for Utica located at 303 Murdock Road.
♦ A high-density permit for Tractor Supply at 726 S. Main Street and for Troutman Storage on the northwestern corner of the US 21/Barkdale Road intersection.
♦ A resolution to accept state grant and loan funding for the 2022 Sewer Collection Rehabilitation Project. The town will receive $1,655,00 in grant funding and has been approved for a State Revolving Fund loan for $687,500 (1.86 percent interest) to complete sewer upgrades.
♦ An annexation hearing request for November 9 by BBC Rocky Creek LLC for just under 20 acres on Byers Road, a portion of the already approved Rocky Creek mixed use development.