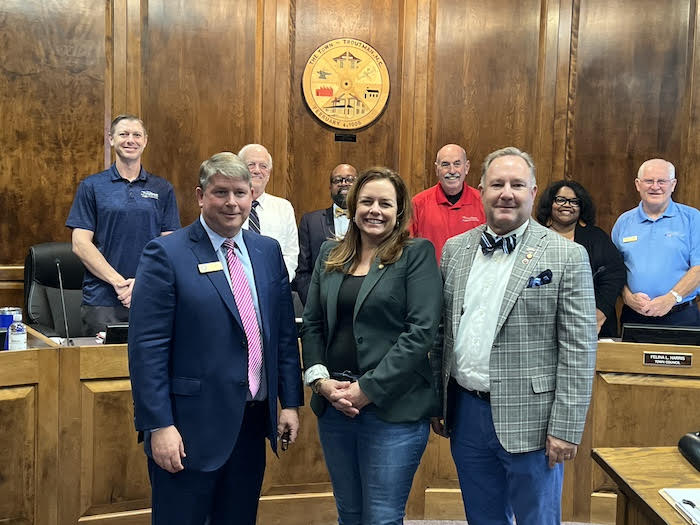 BY DEBBIE PAGE
State Sen. Vickie Sawyer and Reps. Grey Mills and Jeff McNeely presented a symbolic check for $14 million to the Town of Troutman for infrastructure improvements during Thursday's council meeting.
Mayor Teross Young, council members George Harris and Eddie Nau, and Town Manager Ron Wyatt worked throughout the year to present Troutman's needs to elected officials in Raleigh and through frequent contacts at local events and appointments.
McNeely, who spoke for the local legislative delegation, said lawmakers recognized the explosive growth that has now arrived in Troutman, stressing the town's infrastructure.
The mayor thanked the state officials for all their work in the last legislative session, noting that this was the largest appropriation Troutman has ever received.
"They've done a great job in supporting us and hearing the concerns that we had here in our town and the needs that continue to surface and grow for us," Young said.
Wyatt noted that since he was hired as town manager three years ago, the town has received a total of $20 million in state funding.
To explain the impact, Wyatt said the $14 million received this year is four times the public works department's current budget. He continues to look for grants and other funding sources to meet Troutman's needs.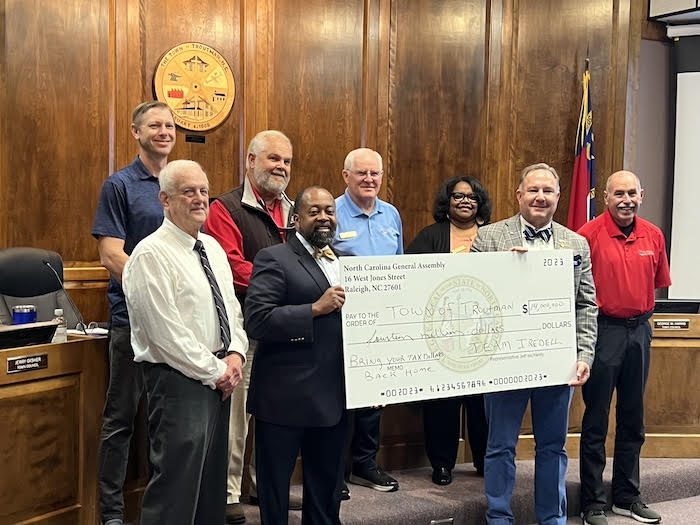 SANITATION COSTS RISE
Wyatt and town officials were shocked by the drastic increase — nearly 200 percent higher than what the town had been told initially — in the cost of sanitation services provided by Republic Services, which purchased Benfield Sanitation.
The town is in talks with the company to address the increase and is also looking at switching to other more cost-effective and reliable services. Wyatt also noted that improper recycling — putting general trash in recycling bins — also raises sanitation costs.
EMPLOYEE OF THE MONTH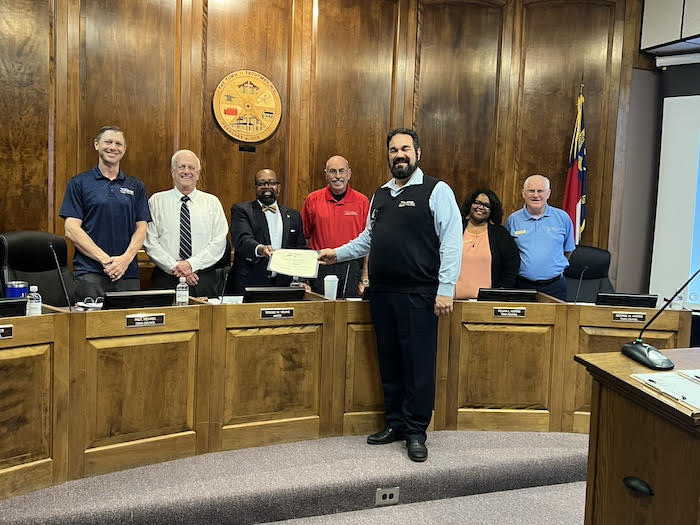 The council recognized Human Resources Director Lou Borek as Town of Troutman Employee of the Month for October. In addition to his work on personnel matters, Borek has also shared his technology expertise to meet staff tech needs.
Though he has moved to the passport office location, Borek remains accommodating and helpful to all staff and volunteers wherever necessary to keep town operations running smoothly, Wyatt said.
SURVIVOR OF SUICIDE LOSS DAY PROCLAMATION
Mayor Young, who signed a survivor of suicide loss proclamation this week along with County Commission Chair Melissa Neader, Statesville Mayor Costi Kutteh, and Mooresville Mayor Miles Atkins, noted that suicide is among the leading causes of death in the United States.
In 2022, Young said that 49,449 people died by suicide, and nearly 50 percent of people know someone who died by suicide in their lifetime.
The American Foundation for Suicide Prevention, the leading research and prevention organization in the U.S., recognizes Saturday, October 18, as a day of healing for those who have a lost a loved one to suicide during International Survivors of Suicide Loss Day.
Survivor Day is held on the Saturday before Thanksgiving each year because the holiday season is a very challenging time for people who have lost their love ones to suicide.
This day is one in which survivors of suicide come together to find connection, understanding, and hope through their shared experience, as well as to honor, celebrate, and remember those who died by suicide.
Young said the leaders in Iredell County recognize that suicide is preventable and that no one should go through a suicide-related crisis alone. They are deeply committed to tackling the mental health challenges facing county residents.
The county commissioners and the mayors joined together in this proclamation to show their support for survivors of suicide loss and officially declared next Saturday as Survivor Day and to urge all residents to support survivors of loss as well as efforts to raise awareness about suicide prevention, mental health, and wellness.
OTHER BUSINESS
The council unanimously passed:
♦ A rezoning request by Peter & Chunbei Schenone for .53 acres at 427 N. Main Street from Office Institution to Central Business.
♦ A staff text amendment request for Special Use Permits to be extended from one to two years. They also removed expirations for variances since those are associated with the property itself, not the property owner.
♦ A staff text amendment request regarding Board of Adjustment decisions and noticing to match the requirements of State Statutes 160D, which requires written notification only of property owners within 500 feet of the property, along with a sign on the property to announce the meeting date and time.
♦ Adoption of the Troutman Mobility Plan.
♦ Approval of an ordinance authorizing infrastructure development reimbursement agreements.
♦ Approval of the Smith Village Amenity Center façade review (Crosstie Lane).
♦ Approval of the Food Lion review of amended elevations to include awning, increased glass on front exterior elevation, and rooftop screening (155 Crosstie Lane).
♦ Approval of Troutman Storage façade review (S. Main Street and Barkdale Road).
♦ An amendment to the Town of Troutman Schedule of Fees for water meters and fees.
♦ Setting annexation hearing requests for nearly 39 acres at 140 Royal Oaks Drive by Sondra Tilton for Sunbeam Property, LLC and for just about 2 acres on Maple Street and .75 acres at 681 South Eastway Drive by Martin Ray Holdings for December 14.