BY ERIC TODD SCOTT SR.
I would like to say thank you to Dr. Jeff James and the participants for the Iredell-Statesville Schools press conference. Great job! It was very timely with the City of Statesville Martin Luther King Jr. event and Dr. Kenston Griffin's message to the community. The vocalization and addressing the issue was much needed! Strategic work gets the message out, gets the message heard, and provokes the right ones into action. It works every time!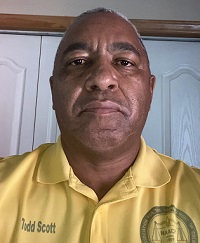 We must not stop there. Dr. James said it best: "The real work happens with the 'community!' " The community of citizens need to take action with the children with discipline issues. We need parental action and a strategic action working with those students who are causing the problems that create unsafe environments in our schools and community.
Here are some correlations that will help is focus on this important issue:
♦ No. 1: The schools with the highest discipline problems, with the highest minority students, and the highest economically disadvantaged student populations are feeder schools.
♦ No. 2: These students come from the environments and areas where there is the highest impoverishment in our city.
♦ No. 3: According to discipline records, these same students live amongst and around these same areas.
♦ No. 4: These same students live amongst and around each other, and they are easily and heavily influenced by each other and their surroundings. Although, the crimes in the city and the discipline in these schools are "loosely correlated," there is indeed a correlation.
♦ No. 5: Students are not necessarily connected to major gangs like the Bloods and Crips, but are mimicking the ideology of gangs. They are forming groups. They are seen wearing similar colors. These students are participating in open public group brawls and fighting. We have seen in our community crime, violence and even death from connections of those same groups.
These students are using social media to publicly post fights, brawls, instigate, and provoke each other into fighting. This community issue has spilled over into our schools. The continuance of these acts of violence is a precursor to expected criminal and unlawful activity in the future and into adulthood. The very ideology of being part of a small gang can be enticing to young adults needing acceptance and a sense of family and support. Small gang activity, even in minor form, can lead to greater gang activity.
Our city has begun housing revitalization. Our citizens in the community have agencies and organizations assistance and support for food, clothing, and monetary needs for rent, and utilities.
Support is being poured into these neighborhoods. It is great to see Iredell-Statesville Schools, the Sheriff's Office, the Statesville Police Department, and the Troutman Police Department working together to set a stance that our schools will remain safe and secure. This is a welcoming safety assurance from our school system and city officials that our children are put first when it comes to security and safety. It is also good to know that our City Council members, city manager, and our mayor are all working for the same greater safety and security measures.
However, there are preventive measures that can be taken in addition to the needed support and assistance from agencies. Our schools are still segregated. The last redistricting of schools caused greater segregation and more impoverished students to attend the same schools with the highest economically disadvantaged student populations. It is great that Iredell-Statesville Schools has "Choice Educational " opportunities but many of those students who are accepted into the I.B. Programs, the Early College Programs are non-minority students. We must continue to seek opportunities like Statesville High School by establishing I.B. programs within the school for all students. Data-proven evidence states that "students of color perform better when at least one of their teachers is of the same racial background. White students benefit from the broadened perspectives a diverse faculty provides."
We must continue to be consistent, initiative-taking, intentional and innovative in seeking ways to recruit and maintain minority teachers for those schools with the highest minority populations. Our instructional staff and curriculum department work to ensure teachers are given quality professional development, coaching and mentoring, and academic programs to leverage our student's growth and learning. There must be a continued push and focus to ensure teachers know, understand and are aware of and intentionally are practicing and implementing activities of culturally competent teaching. This is critical to the confidence, the growth and success of minority students.
Iredell-Statesville Schools leadership, and teachers work for our students to be career, college, or military ready upon graduation. How are our schools with the highest minority students and the highest economically disadvantaged students measuring up to the skills needed for the future graduate: Adaptability, Collaboration, Communication, Critical Thinking, Empathy, Learner's Mindset, Personal Responsibility?
Parents, this is what you should be more concerned about. Are you actively involved in your child's education and discipline? Are you monitoring social media and afterschool weekend activities?
Our city has many events, recreation centers, and faith-based organizations that support youth and activities. The question still remains how are these city recreation centers, events, and organizations reaching the youth in the cities most impoverished areas? What transportation is provided for those youth to participate in activities in their areas? How can the city assist with providing transportation to these recreation centers and allowing for arts, crafts, and activities for the youth? How are daycares and preschool programs getting the funding needed to support more minority students from these areas into their programs? There is a wonderful city fitness center with a host of activities for students to participate in. How is our city providing the same for students who live in the impoverished areas of the city the opportunity in their area? Where is the exercise equipment and the workout rooms, the opportunity for yoga, pilates, and a place to swim?
To all the local faith-based organizations in the area, what are you doing in the community to draw the youth? What events are you hosting? What workshops and training are you providing to parents? How are you publicizing these opportunities for students to participate?
How do we teach our students and our community about preventive early-education measures on criminal activity and gang violence? Is our city taking proactive measures to educate and train students about the negativity of mimicking gangs? How do we help our youth and citizens feel empowered into positive action and less negative reaction? Can we support our community with more Community Watch signs, or signs posting ways to call anonymously when you see crime occurring? Can we assist and fund our local city police with the recruitment of police officers? Is there funding for re-establishing the P.A.C.T initiative?
These are just questions and considerations. If we indeed are about supporting our community for a greater cause to reduce crime, violence, and support our school system, then there is a greater mission, a greater strategic planning, a greater need for funding, a greater work. Every citizen has the right to vote for the candidates they believe will uphold policies that are important to their livelihood and ensure safety and security in our communities. Every citizen has a responsibility to speak up and out about things that matter instead of complaining. Every citizen has the right to improve and has the resources, if they so choose to use them, to improve their own quality of living. "All of our youth are our future!" Let's put our talking into action to address the real issues.
Eric Todd Scott Sr. is the president of the Statesville Branch NAACP #5454.