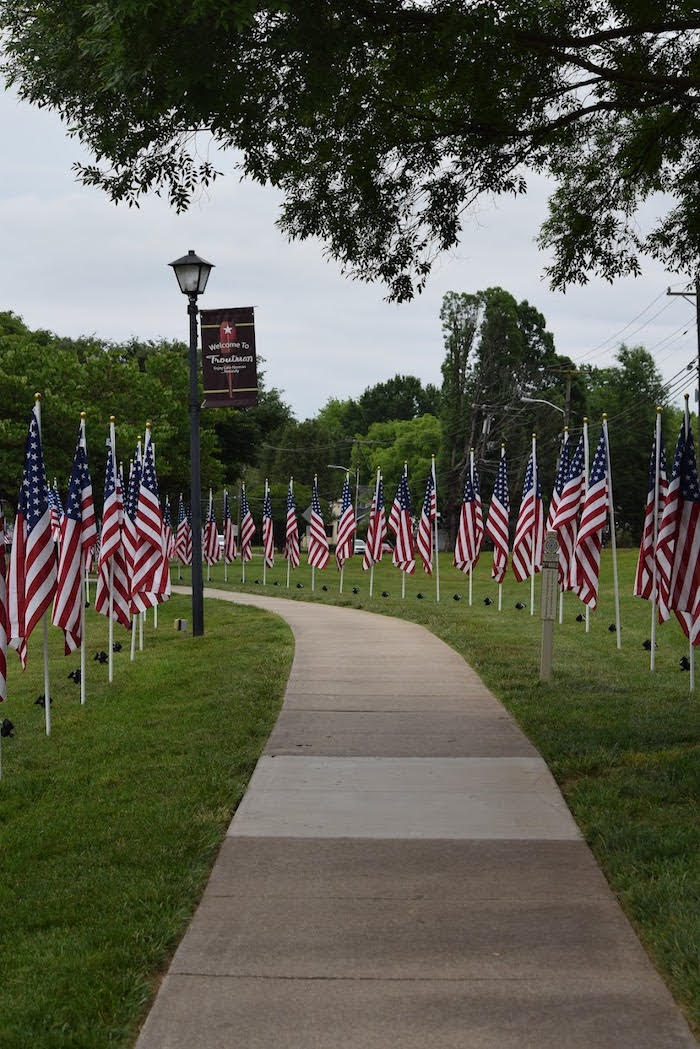 BY DEBBIE PAGE
The Evening Exchange Club of Lake Norman, in partnership with the Town of Troutman, is hosting the Walk of Heroes along the Richardson Greenway, displaying 250 hundred flags as part of a commemoration of the service and sacrifice of military members.
The flags will fly through Monday, May 29, for the community to walk through and pay tribute. The display will be lit up at night thanks to a donation of 250 solar lights by Lowe's Home Improvement of Troutman.
The flags are available for purchase to honor a veteran or fallen military member as part of the Memorial Day remembrance activities and may be purchased for $35 on the greenway in front of Town Hall from 4 to 7 p.m. each day this week or purchased online. The flag will display the loved one's name and can be picked up following Monday afternoon.
For more information, email psummerville01@gmail.com or call 704-677-6900 or 980-585-9946.
On Memorial Day at 11 a.m., the community is invited to attend an Evening Exchange Club of Lake Norman event at Troutman ESC Park (338 North Avenue behind Town Hall) to pay honor and respect to veterans and those who have served or died to defend our freedoms.
The event will feature guest speakers, including retired Gen. James Mallory, along with music, fellowship, and a hot dog lunch provided by the Town of Troutman.
Town Manager Ron Wyatt is thrilled to add this patriotic event to the many Troutman offers to the community.
"We've already had a lot of comments from folks who love our town and the fact that we honor veterans who have served and those who gave the ultimate sacrifice," he said.
Mayor Teross Young said this is a great opportunity "to really celebrate those who have served and are serving. I don't think we do enough of that, so for our small town to do that in a way that gives back, at least for a moment, for those people — I think is meaningful."
"It's a small gesture, but I think clearly it gives us an opportunity just to say thank you."
Young also thanked Lowe's for their lighting donation to enhance the event. "They've always been a good partner with the town, and this is just one more example."
EXCHANGE CLUB
Founded in 1911, the Exchange Club has over 18,000 members in 630 clubs in the U.S. and Puerto Rico. The four pillars of the club are helping youth, promoting Americanism, community service, and child abuse prevention.
The Evening Exchange Club of Lake Norman formed in 2016, and members have volunteered many hours in community food banks, veterans programs, schools, and social service programs to give back to the community in which they live.
The club supports organizations The Christian Mission, Sleep in Heavenly Peace, Richard's Coffee Shop, Pharos Parenting, G4G Ministries, Iredell County United Way, Children's Hope Alliance, Hope of Mooresville (HOMe), and FeedNC.
The club welcomes those interested in joining when it meets at Victory Lanes in Mooresville on the first and third Tuesday of each month, with social time from 6:30 to 7 p.m. and the meeting from 7 to 8 p.m. The joining fee is $25, with $65 quarterly dues.