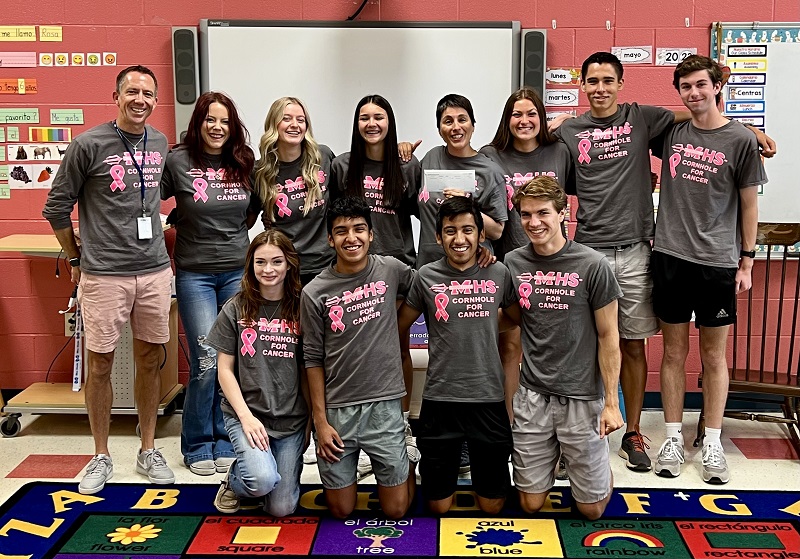 Special to Iredell Free News
People familiar with Mooresville Graded School District know that it often refers to its staff and students as "family." It is a word that is not simply said; it is felt. There are little ways every day that the idea of being a family can be witnessed, but on May 23 it was all about Rosa Guerra and the Mooresville High School Sports Literature class.
For the past 19 years, Mooresville High School students in the Sports Literature class have held their Cornhole for Cancer tournament to raise money for an MGSD staff or family member who is battling cancer. The students in this class, with the oversight of their teacher, are in charge of organizing the tournament, choosing a recipient, and raising money through sponsorships, entry fees, T-shirt sales, and donations.
This year's tournament was held on April 28. Jay Clark and his Sports Literature students raised an all-time high of $15,000.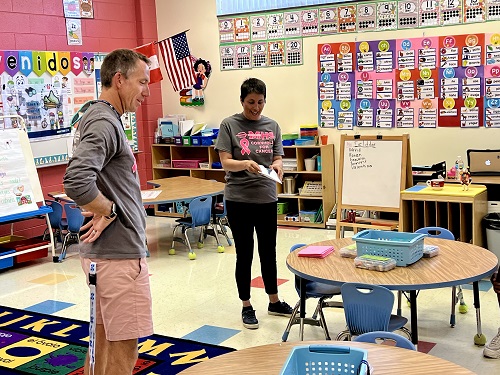 Despite being done with classes and testing for the year, the Sports Lit students and Mr. Clark showed up at Rocky River Elementary School on May 23 to present the $15,000 check to Ms. Guerra, a Dual-Immersion teacher who has been valiantly fighting cancer after being diagnosed in the summer of 2022.
Ms. Guerra – or Miss Rosa, as the kids call her – is here from Peru and has been teaching for MGSD in the Dual-Immersion program since 2021.
After presenting Miss Rosa with the check, the "big kids" took to the carpet to visit with her. More than one student exclaimed how they remembered or missed circle time on the carpet from when they were in elementary school. Guerra took the time to ask each student what their future plans were and then left them with advice about appreciating life and being kind to each other:
"I have learned that this life is the only one we have, and it is very unpredictable. For that reason, we need to enjoy every single moment with our loved ones, be always grateful, and live a life filled with an abundance of joy and optimism. It is important that we look after people.
"Having cancer made me realize that even during the periods of despair and distress, I could still find wonderful people around me. I cannot be more grateful to you for doing such a wonderful job. You brought me such moments of joy and peace and made me believe that we still have good hearted people in this world. I am very proud of you! Live life to the fullest!"
LEARN MORE
If you would like to be involved or learn more about the MHS Cornhole for Cancer tournament, contact Mr. Clark at Mooresville High School at jamesclark@mgsd.k12.nc.us.