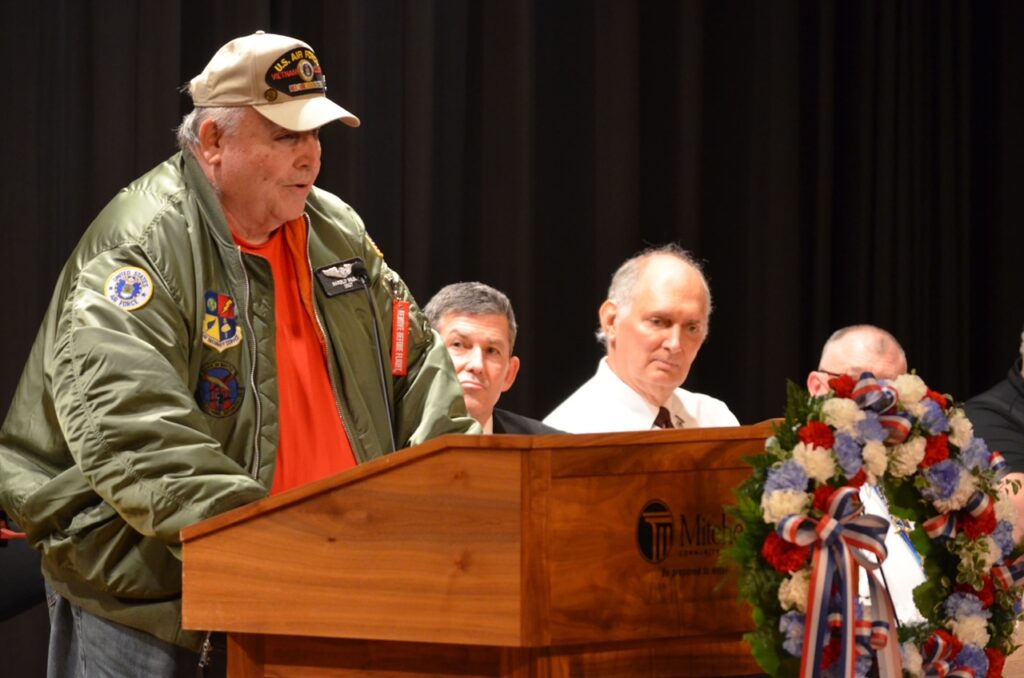 BY BRANDY TEMPLETON
Shearer Hall was full of veterans, family, and friends who showed support of the military during Mitchell Community College Annual Veterans Day Ceremony.
Representatives of each military branch stood to be recognized and was honored with their branch's distinctive music.
College President Tim Brewer expressed his appreciation for the freedom and opportunities that veterans provided to citizens today. Students who are pursuing their education owe a debt to those who served.
"We can never forget that was made possible by you veterans. There are so many opportunities you made possible every day," Brewer said. "Thank you for your service. We appreciate all you do."
Harold M. Wilson, a 1965 Statesville High graduate, was a special guest speaker at the ceremony.
After high school, Wilson attended N.C. State University, where in his junior year "Uncle Sam came calling."
So, in February 1968, he enlisted in the Air Force during the height of the Vietnam War. Over the next seven years Wilson flew 271 reconnaissance and surveillance missions. By the time he left the service, he had accrued 2,867 flight hours.
"Our security squadron was the most decorated unit in the Vietnam War," he said.
Wilson remembers those years fondly and thanks those who served with him.
"They left their families, their lives, and homes but not for recognition or fame," Wilson said. "I salute all who served and serve today."
Today, he'd return to active duty if he was called upon.
"I'm proud I served my country and would gladly do it again," Wilson concluded.
Photos