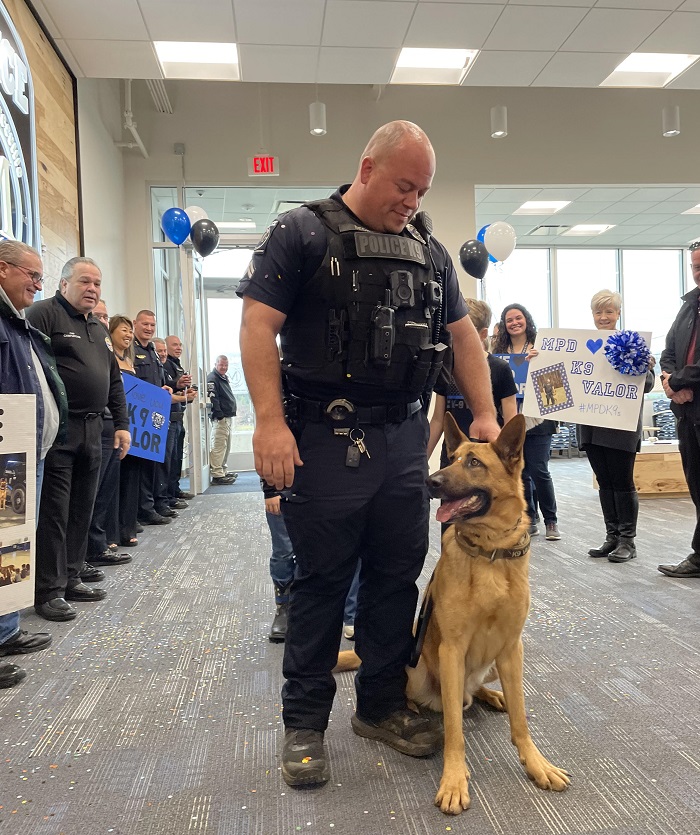 BY MIKE FUHRMAN
Mooresville police Cpl. Andrew Beck knew something was wrong with his canine partner Valor in late September.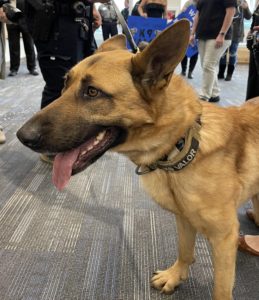 After a routine training session, the 6-year-old German shepherd-Belgian Malinois mix started whining in the back of Beck's patrol car. That behavior was unusual, Beck said, and he quickly realized that Valor was in significant pain.
The MPD corporal rushed his partner to Aloha Veterinary Hospital, where Dr. Masako Mori examined Valor, took X-rays and delivered the devastating news: The canine had developed mesenteric torsion, a condition in which the intestine twists around itself, disrupting digestion and cutting off blood flow to the area.
Valor's prognosis was grave. Mesenteric torsion has a nearly 100 percent mortality rate, and death often occurs within 18 hours, according to several research studies.
Dr. Mori did not speculate on Valor's chance of survival, but by "looking in her eyes I could tell there was a possibility of death," Beck said.
Valor underwent a surgery that lasted more than three hours. While the corporal awaited the outcome, other MPD officers picked up blood plasma from other veterinarians in the area and delivered it to Aloha Veterinary Hospital.
"I was in a daze," Beck recalled.
Law enforcement officers develop strong relationships with their canine partners. The day an officer receives a four-legged partner is similar to bringing a newborn baby home from the hospital. They spend thousands of hours training and working together, and the working dogs live with their partners.
"You create a bond like you would with a human," Beck said. "When you're having a bad day, you're talking to them about it. And they will protect you no matter what."
Valor survived the surgery, and endured a difficult recovery. A veterinarian from another practice spent the night after the surgery at Aloha Veterinary Hospital, keeping closing tabs on the canine. And Beck took a turn on overnight duty as well, sleeping on a cot next to his partner's kennel.
"He was on his death bed for three days," the corporal said.
Four days after the surgery, Beck took Valor home and began nursing his partner back to health. For two weeks the canine was barely able to stand and walk, and he battled digestive issues and weight loss for two months as his intestines healed and began functioning properly.
As Valor regained his strength over the past few months, the partners resumed training. On Wednesday, Beck and Valor were recertified in narcotics detection and tracking.
"He knew what to do and he had not forgotten it," Beck said of the certification process.
Valor's return to duty is bad news for individuals involved in the sale of narcotics in the Mooresville area — and for suspects who leave a scent while fleeing a crime scene. The MPD canine is credited with the largest heroin seizure and the most apprehensions in the department's history.
"He's made a name for himself on the streets," Beck said. "He's helped put a lot of criminals in prison, where they need to be."
From the efforts of the staff at Aloha Veterinary Hospital to the woman who donated thousands of dollars to pay for his surgery, the community support over the past four months has been remarkable, according to Beck.
"We've got some really great people here. People love us. They want us here," he said. "There's a backbone to this city. If we didn't have the backing of our citizens, we couldn't do our job."