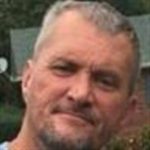 Danny Lee Spears, 49, of Statesville, N.C., passed away suddenly and unexpectedly on Saturday, December 14, 2019, in his home surrounded by his family.
Danny was born on April 13, 1970, in Iredell County to the late Lonnie Lee Spears and Virginia Lee Kendrick Spears, who survives. He was also preceded in death by grandparents, Clara Mae Kendrick and Lennis Edward Kendrick, and Lieney Lee Spears and Jane Wilcox Spears; and an uncle, Boone Kendrick.
Danny worked most of his life as a truck driver. He was a good-hearted man who never met a stranger. Danny loved riding his motorcycle, riding horses, fishing, playing pool, horseshoes and singing karaoke. Most of all, he loved his family and friends, especially his grandkids, and was a proud father, son, papa, brother, uncle and friend.
In addition to his mother, Virginia Spears of Stony Point, he is survived by two sons, Terry Spears and wife Heather and Christopher Spears and wife Shaylee; a daughter; Destiny Spears and fiancé' Josh Smith, all of Statesville; five grandchildren, Zoey Jean Spears, Braxton Aaron Spears, Nico Paul Spears, Calvin Hayden Spears, and Maverick Blaine Spears; a brother; Dale Spears and wife Elizabeth of Stony Point; his girlfriend, Kathy Moss, and her children, Allen McMurray, Steven McMurray, Samantha McMurray, and Shawn McMurray and grandson Brayden McMurray; a niece, Shyann Haynes; nephews, Brandon Benefield, Matthew Roten and Austin Kendrick; and many friends who were like family.
A Memorial Service will be held Thursday, December 19, 2019 at 6 p.m. at the Nicholson Funeral Home Chapel with Rev. Jeff Teague officiating. The family will visit with friends following the service.
In lieu of flowers, the family asks that donations be made to help cover funeral costs. Fond memories and condolences may be left at www.nicholsonfunerals.com.
Nicholson Funeral Home is serving the Spears family.