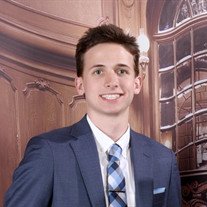 Devon Alexander Sheffield, 20, of Mooresville, N.C., passed away on Friday, December 20, 2019.
He was born on September 29, 1999, in Jacksonville, Fla., to Robert "Bobby" Alexander Sheffield III and Karen Marie Bessent Sheffield. Devon was a 2017 graduate of Pine Lake Preparatory School, where he played football and served as an offensive assistant coach. He was an extremely talented percussionist. He played the snare drum in his middle and high school band, indoor drumline, and drum set in the Grace Covenant Church Worship teams. Devon loved racing and spending time at the track with his family. He also loved going to the beach and all types of water sports. Devon was a North Carolina Real Estate Broker/Realtor at Keller Williams in Mooresville. He was always smiling and kind to everyone; he loved helping people.
He was preceded in death by his paternal grandmother, Deborah Louise Gelaro.
In addition to his parents, Bobby and Karen, he is survived by brothers, Dylan and Darin Sheffield; sister, Jaycee Sheffield; maternal grandparents, Ellis and Debbie Bessent; maternal great-grandmother, Hilda Andrews; paternal great-grandmother, Louise Gelaro; aunts, Kimberly Bessent, Kathryn Boschele (Chett)Kri andstin Phillips (Bryan); extended family; and his rescue pups, Jack and Kacie.
Services are incomplete at this time.
In lieu of flowers, memorials may be made to Our Towns Habitat for Humanity Iredell County, P.O. Box 1088, Davidson, NC 28036 or OI (Osteogenesis Imperfecta) Foundation P.O. Box 824061, Philadelphia, PA 19182-4061.
Cavin-Cook Funeral Home & Crematory, Mooresville, is serving the Sheffield family. Condolences may be made to the family at www.cavin-cook.com.