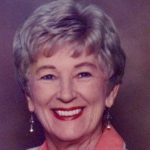 Doris "Marie" Martin Dagenhart passed away November 19, 2019, at Carroll Campbell Place in Lexington, S.C. Marie was born in Alexander County on November 30, 1936, to the late Erby Martin and Jessie Drum Martin.
Marie, a graduate of Stony Point High School and Statesville Business College, was married to Ronald "Howard" Dagenhart Jr., who passed away on October 8, 2019. She was a long-time member of Rose Chapel UMC and the United Methodist Women. She retired from Celanese Corporation in Salisbury, N.C. After retiring, Marie served as a volunteer for Iredell Memorial Hospital for many years.
In addition to her husband, she was preceded in death by an infant son, Richard Curtis Dagenhart; four sisters, Elsie Dyson (Cleno), Lena Cockrell (Gilmer), Betty Chapman (Jaroh), and Dorothy Dyson (Conley); and two brothers, Foster and David.
Those left to cherish her memory are one daughter, Janet Daniels (Chip); two granddaughters; Jodi Glenn (Mike) and Erica Smith (Wess); one grandson; Wesley Daniels; four great-grandchildren, Grady, Pryce, Holland and Sam; and two sisters-in-law, Dorothy Martin and Betty Martin.
Marie enjoyed life and had a smile for everyone. She loved to cook and to bake on Saturday mornings. She was an avid tennis player and never missed her yoga class. Most of all, she loved her family and spending time with her friends.
A celebration of life service will be held at Rose Chapel UMC in Statesville, N.C., on Saturday, November 23, 2019, at 2:15 p.m. with Rev. Gary Camp officiating. Burial will follow in the church cemetery. The family will visit with family and friends prior to the service from 1 to 2 p.m. in the Fellowship Hall at Rose Chapel.
Fond memories and condolences may be left at www.nicholsonfunerals.com. Memorials may be made to the Alzheimer's Association or to Rose Chapel, 813 Turnersburg Highway, Statesville, NC 28635.
Nicholson Funeral Home is serving the Dagenhart family.