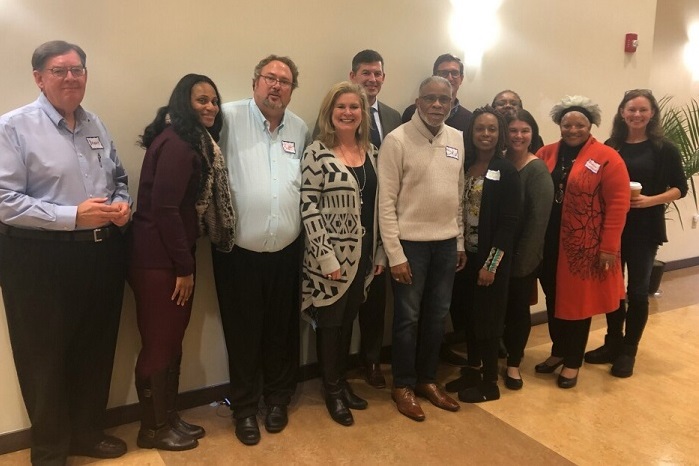 Pictured (from left) in the front row are Brady Johnson, Iredell-Statesville Schools superintendent; LaToya Caesar, I-SS innovation and community liaison; Brett Eckerman, United Way executive director; Boen Nutting, I-SS director of Communications and Development; Skip McCall, community advocate; Brandie Bruner, Iredell-Statesville Community Enrichment Corporation property manager; Amy Fuhrman, Hospice & Palliative Care of Iredell County director of development and community outreach; Alvera Lesane, I-SS associate superintendent of Human Resources; and Pamela Siegfried, Mitchell Community College education navigator. In the back row are Tim Brewer, Mitchell Community College president; Ron Smith, Statesville city manager; and Kathy Walker, Statesville High School assistant principal. Not pictured are Toni DiMella, Mitchell Community College math teacher, and Jessica Orr, East Iredell Middle School guidance counselor. Picture courtesy of I-SS.
FROM STAFF REPORTS
Iredell-Statesville Schools and Mooresville Graded School District School officials attended racial equity training held by Racial Equity Cabarrus last week.
A small, but varied cross-section of the Iredell community — including top leaders from local government and nonprofits — joined education leaders in the two-day event at All Saints Episcopal Church.
The training, presented by the Racial Equity Institute, is designed to "develop the capacity of participants to better understand racism in its institutional and structural forms and help establish goals and strategies based on that deeper understanding."
I-SS Superintendent Brady Johnson said he believes this type of training can improve race relations.
"You really should judge people by the content of their character, not the color of their skin," Johnson said.
Conscious and unconscious bias exists throughout society, Johnson explained, noting that involving more community partners can only lead to inclusion and better outcomes for everyone in the future.
LEARN MORE
Fore more information, visit https://www.racialequityinstitute.com/