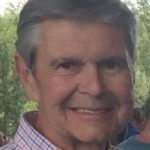 Douglas "Doug" Charles Frank of Mooresville, N.C., passed away peacefully on Sunday, December 22, 2019, with family by his side. He was born in Queens, N.Y., on October 13, 1948, to the late Charles and Marion Wodzinski Frank. He grew up in Long Island, N.Y., and moved to West Chester County, N.Y., during his high school years, when he met the love of his life, Margo Frank. They married on May 26, 1973.
He is survived by his wife of 46 years Margo; children, Jennifer Frank Wolfe, Gary Frank, and Greg Frank; brothers, Brian Frank (Kathy) and Jeffrey Frank (Susan); and grandchildren, Braden and Rylan Wolfe.
He was diagnosed with Pancreatic Cancer in January of 2017. He courageously battled with optimism each day. His positive attitude and lighthearted jokes made all of those who were blessed enough to know him laugh, smile and appreciate life to the fullest, even during his most challenging days.
Doug loved playing the drums, spending time with family and friends, and was always the first person to be there for anyone in need of any type of help or support.
He worked in sales for the majority of his career and later became involved with real estate as well. Over the years he quickly made friends with colleagues, many of whom evolved into lifelong friends.
A Celebration of Life will take place at 2 p.m. on Sunday, December 29, at Centre Presbyterian Church in Mooresville, N.C., with Rev. Dr. Robert M. Howard officiating.
In lieu of flowers, memorial donations may be made to Levine Cancer Institute Pancreatic Cancer Fund in c/o Atrium Health Foundation, 208 East Blvd., Charlotte, NC 28203 or atriumhealthfoundation.org.
Cavin-Cook Funeral Home & Crematory, Mooresville, is serving the family. Condolences may be sent to the family at www.cavin-cook.com.