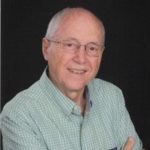 On Monday, December 30, 2019, Edward Patrick Chabica, loving husband, father, brother, uncle, and friend passed away at age 82.
Ed was born on March 17, 1937, in New Lothrop, Mich., to Joseph and Katerina (Hajek) Chabica. He graduated from Owosso High School in Owosso, Mich., in 1955 and received his Agricultural Engineering degree from Michigan State University in 1960. In high school he met the love of his life and on August 1, 1958, he married Sharon Lee Tobey. They raised six children, Mark, Bruce, Susan, Cindy, Sara and John. Ed and Sharon lived in Michigan, Illinois, Wisconsin, Iowa and Upstate New York before retiring to North Carolina.
Ed was a successful engineer and entrepreneur. Ed was an active Rotarian and led the Rotary International Youth Exchange in Waterloo, Iowa. He enjoyed hunting and fishing, home improvement projects, and music. Ed was a man of faith. He was active in men's quartets and the church choir and loved singing hymns as Sharon played the piano. Ed was a dedicated friend, a caring uncle, a dear brother, a proud and generous father, and a faithful and loving husband.
Ed was preceded in death by his brother, Jerry; his sister, Irene; and his daughter, Susan. He is survived by his wife Sharon; daughters, Cindy Prins (Kevin) of Lacombe, Alberta, and Sara Winterleitner (Richard) of Milton, N.Y.; and sons, Mark (Nancy) of Colorado Springs, Bruce (Susan) of Pine Plains, N.Y., and John (Bridgid) of Maple Grove, Minn. Ed is survived by twelve grandchildren, Ryan (Jenna), Terran, Connor, and Paige Prins; Amanda Jackson and Alex Winterleitner; Lauren, Hannah and Hayden Chabica; and Anna, Lily and Gavin Chabica; and four great-grandchildren, Cohen, Della and Ira Prins, and Keira Chabica; and many nieces, nephews and friends.
Visitation for family and friends will be Thursday, January 2, 2020, from 4 to 6 p.m. at Cavin-Cook Funeral Home, Mooresville. A funeral service will be held on Friday, January 3, 2020, at Rehobeth United Methodist Church, 9297 Sherrills Ford Road, Terrell, NC 28682 at 1 p.m.
In lieu of flowers, donations may be sent to Rehobeth UMC or the American Parkinson Disease Association of the Carolinas, 601 E. Fifth Street, Suite 140, Charlotte, NC 28202.
Cavin-Cook Funeral Home and Crematory, Mooresville, is serving the Chabica family. Condolences may be sent to the family at www.cavin-cook.com.