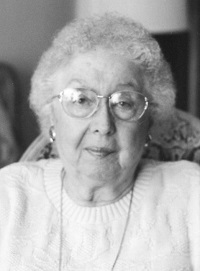 Mrs. Emily Frances Leitner Ervin, 93, of Statesville, N.C., passed away Wednesday, November 27, 2019, at Gordon Hospice House. Born in Portsmouth, Va., on July 16, 1926, she was the daughter of the late Louis Jordan Leitner and Bessie Mathias Leitner. In addition to her parents, she was also preceded in death by her step-mother, Myrtle Chadick Leitner.
Mrs. Ervin was a graduate of Madison College (now James Madison University) in Harrisonburg, Va. She was a member of Concord Presbyterian Church, where she served as the church organist and choir director for many years. She was also a member and past-president of the MacDowell Music Club and held a lifetime membership in the National Federation of Music Clubs. She spent a lifetime sharing her gift and love of music as a music educator in the Iredell County Schools and the community, including private piano and voice lessons to hundreds. A number of her choral and piano compositions were published.
Mrs. Ervin was also a member of the Scotts Extension Homemakers Club, past-regent of the Fort Dobbs Chapter of the D.A.R., and a volunteer at Scotts Elementary School. In 2007, she received the Old North State Award from Gov. Mike Easley for her extensive volunteer work.
Those left to cherish her memory are her husband of 67 years, Hugh Harris Ervin of the home; children, Nancy Ervin Nesheim (Brad) of Richmond, Va., David Leitner Ervin (Kathryn) of Cary, N.C., and John Hugh Ervin (Joyce) of Statesville; five grandchildren (Benjamin Nesheim, Philip Nesheim, Anna Ervin Hoppert, Daniel Ervin and Drew Ervin) and four great-grandchildren (Charlotte and Cate Nesheim and John and Joseph Hoppert).
The family will receive friends Saturday, November 30, 2019, from 1:30 to 2:45 p.m. in the fellowship hall of Concord Presbyterian Church. The funeral service will follow at 3 p.m. in the church sanctuary with the Rev. Elizabeth "Liz" Troyer officiating. Burial will be held in the church cemetery.
Memorial donations may be made to Concord Presbyterian Church, 3867 Taylorsville Highway Statesville, NC 28625 or to the MacDowell Music Club.
Online condolences may be left for the family at www.bunchjohnsonfuneralhome.com. Bunch-Johnson Funeral Home is honored to be serving the Ervin family.