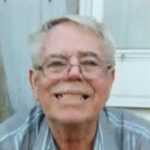 Gary Allen "Butch" Bost, 66, of Statesville, N.C., passed away peacefully on Thursday, November 7, 2019, at the Gordon Hospice House.
Butch was born in Iredell County on January 14, 1953, and was the son of the late James Clay "JC" Bost and Ruth Brewer Bost. He attended Iredell County Schools and was employed with B&B Auto Glass.
Butch was a loving father, grandfather and friend to many and will be missed dearly.
In addition to his parents, he was preceded in death by four brothers and three sisters.
Left to cherish his memory are two daughters, Cassie Mayes of Statesville and Amanda Bost of Dobson, N.C.; along with five grandchildren, Alexis and Amaya Bowes, both of Statesville, and Michael Martin Jr., Lisa and Seanna Martin, all of Dobson. A host of nieces and nephews also survive.
A celebration of life service will be conducted at 2 p.m. on Saturday, November 9, 2019, in the Nicholson Funeral Home Chapel with Pastor James Lewis officiating. The family has respectfully requested that no visitation will be held.
Donations may be made to the charity of the donor's choice. Online condolences can be made to the family at www.nicholsonfunerals.com
Nicholson Funeral Home is serving the family of Butch Bost.