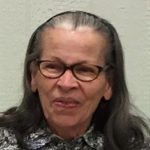 Haydee Maria Barrantes Alvarado, 73, of Mooresville, N.C., passed away on Thursday, November 14, 2019, at her residence.
She was born on May 8, 1946 in Costa Rica to the late Eligio Barrantes and Maria Luisa Alvarado. Mrs. Alvarado was very kind, supportive, and a gentle lady. She loved her children and grandchildren very much.
In addition to her parents, she was preceded in death by her husband, Gerardo Lizano; son, John Lizano; and one sister.
She is survived by her children, Francisco Lizano, Vera Lizano, Daniel Lizano, Ana Lizano-Garcia; grandchildren, Paola Lizano, Stephanie Lizano, Robert Lizano, Marianni Lizano, Joselyn Barrientos, Justin Barrientos, Joey Barrientos, Daniela Lizano, Samuel Garcia; great-grandchild, Randy Chavez; and three brothers and eight sisters.
A Memorial Service will be held at 6 p.m. on Sunday, November 17, at the Cove Church, 197 Langtree Road, Mooresville, NC 28117.
Cavin-Cook Funeral Home & Crematory, Mooresville, is serving the Lizano-Barrantes family. Condolences may be made to the family at www.cavin-cook.com.