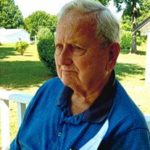 James Howard Byers Sr., 88, of Mooresville, N.C., passed away on Monday, December 16, 2019, at Abernethy Laurels in Newton, N.C.
He was born on March 5, 1931, in Catawba County, N.C., to the late Lee Roy Byers and Mamie Drum Byers. Mr. Byers was retired from Pilot Freight Carriers after 36 years of service.
He was a member of Mt. Mourne Church of God in Mooresville.
In addition to his parents, he was preceded in death by his wife, Lucille Riddle Byers; sons, Randy Scott Byers and Bobby Lee Byers; brothers, Coleman, Johnny, Coyte, and Frank Byers; sister, Mabel Byers; granddaughter, Marci Lucinda Byers; and great-granddaughter, Logan Railyn Byers.
He is survived by his children, Butch Byers (Cathy), Steve Byers (Debbie), Susie Vaughn (Gerald), Debra Sherrill, and Brenda Summerlin (Bud); sister, Nellie B. Sharpe; brother, Ray Byers (Rachel); fifteen grandchildren and eighteen great-grandchildren.
The family will receive friends on Friday, December 20, from 10:30 a.m. to 12 noon with a service following at 12 noon at Cavin-Cook Funeral Home Chapel with Rev. Lawrence Owenby officiating. Burial will follow the service at Glenwood Memorial Park. Pallbearers will be his grandsons.
In lieu of flowers, memorials may be made to Back in The Woods Again Disabled Hunters, c/o Tommy Estridge, 1519 Winford Bradford Road, Bennett, NC 27208 (www.backinthewoodsagain.com).
Cavin-Cook Funeral Home & Crematory, Mooresville, is serving the Byers family. Condolences may be made to the family at www.cavin-cook.com.