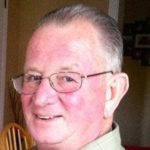 James Ray Farster, 72, of Mooresville, N.C., passed away on Tuesday, December 24, 2019.
He was born June 28, 1947 in Armstrong, Pa., to the late Omar and Irene Mottern Farster.
James taught high school math, was a professor and a basketball coach. He was in the education field for more that 40 years. He enjoyed carpentry work. His grandchildren were the love of his life.
James is survived by his loving wife, Deborah H. Farster; children, Amy Solman (Fred), Renee Farster-Degenhardt (Nathalie), Brandon Farster (Angela), Kimberly Piper (Brandon), Hilary Kubit and Keith Kubit (Courtney); brother, Dan Farster (Helen); grandchildren, Braden, Zaila, Maceo, Josie, Molly, Leah, Cade, Brooke, Blake and Ryan.
Services will be held at a later date in Pennsylvania.
Cavin-Cook Funeral and Crematory, Mooresville, is serving the Farster family. Condolences may be sent to the family at www.cavin-cook.com.