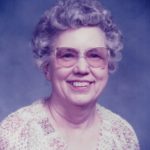 Josephine Horn Rives, 99, passed away on November 15, 2019.
Jo was also known as Jo Ann by many friends and customers. She was owner of Jo Ann's Hat Shop from 1959 at 128 W. Broad Street until the mid-1970's, when her business moved to 944 Davie Avenue and became Uniform Fashions. She also owned and operated uniform stores in Hickory and North Wilkesboro.
Mary Josephine Horn Rives was born the third of six children on October 2, 1920, to David Alson Belt Horn and Mattie Cale Horn in Winston-Salem, N.C. Her Siblings were William Albert (who died in infancy), Dorothy Mae (deceased at 14), Robert Belt (Barbara), Mildred Annie McLester (Curt) and Raymond Alson Horn (Gloria, who survives), all of whom preceded her in death.
On November 20, 1941, she married Robert Franklin Rives Jr. and they had three children, Shirley Ann Rives Reid (Larry "deceased"), David Franklin Rives (Jean), and Sally Rives Parker (David). She had six grandchildren and eight-great grandchildren. Grandchildren are Matthew Reid, (Donna), Wesley Reid, (Erin) David Rives, Carey Parker (Annie), Elizabeth Parker Ford (Ryan) and Sarah Parker Pittman (Clay). Great-grandchildren are Isabella Reid, Adelaide Reid, (Mary Evelyn) Evie Parker, Willa Parker, Landon Reid, McKinsey Reid, and 6-month-old twins, Emma Josephine Ford and Parker Ford.
She was further preceded in death by a stepson, Scott Davis, and great-grandson, Cody Rives.
Jo was known for her kindness and caring for others and her vibrant, fun spirit that could fill the room with laughter, joy and also wisdom. While she had little formal education, she was self-educated in many areas of business and was active in Democratic Party politics. Her stores were often gathering places for friends and family, and she was known to help many women and widows through difficult times giving them help and advice on life and finances.
Jo was a member of Race Street Methodist Church for most of her life. After her husband passed, she joined First Presbyterian to be with other family members. At Race Street, she was active in the church and women of the church circles, where she was treasurer and helped raise money by selling flavorings in her stores, along with helping with the church's famous chicken pot pies.
While Jo's number one priority was love and care of family, she had quite a career outside the home. She began at a very young age working at Gray's cafe, which she always held dear to her heart for the experiences and people she met. She also met her future husband during the time she worked there. In 1942, she was employed by Emergency Crop and Feed Loan. She had received training for this job through National Youth Administration. In 1950, she became interested in insurance, which would allow her to own her own business and have flexible hours so she could care for family while working. After passing her exams and becoming licensed, she sold casualty and accident for CW Brown's agency. In June 1952, she became licensed to sell Life Insurance after taking her classes through the Institute of Government at Chapel Hill. In 1959, she had the opportunity to buy an established millinery store from Rena Hunter and there began her retail career.
Jo, like her husband Bob, was an active Democrat, believing in the principals of the Democratic Party dating back to Franklin Roosevelt.
Josephine's involvement in politics took her many places, including whispering in the ear of President Bill Clinton.
Gifts in memory of Jo may be made to First Presbyterian Church, Fifth Street Ministries, Gordon Hospice House or Iredell County Democratic Party. Online condolences may be made to the family at www.troutmanfuneralhome.com
Funeral services will be held at 2 p.m. on Wednesday, November 20, 2019, at First Presbyterian Church. The family will visit with friends following the service. A private family burial will be held earlier at Oakwood Cemetery.
Troutman Funeral Home is serving the family of Mrs. Jo Rives.