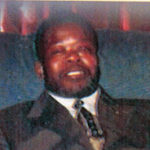 Mr. Michael Eugene Grider was born on June 27, 1959, in Big Springs, Texas, to the union of Freddie Lee Crutchfield and Edith Mae Grider Crutchfield. He was the eldest of the five. He peacefully entered into eternal rest on Tuesday, November 12, 2019, at the age of 60, at Wake Forest Baptist Medical Center in Winston-Salem, N.C., after a brief illness.
Michael was a 1977 graduate of Central High School in Little Rock, Ark. He was employed for 39 years with Tyson Foods as a computer operator. "Shop until you drop," was Michael's mantra. However, few things gave him more pleasure than bowling, playing softball or playing dominoes. Michael loved the outdoors and was known for his immaculate lawn care. He would often work late in the evening mowing and helping others in his neighborhood. He adored children and was always the Santa at Chestnut Grove Baptist Church. You never saw Michael without a smile on his face because he was such a happy camper.
Michael was married to the love of his life, Debbie Lafae Jones Grider. While they did not birth children, they reared many family members, including his nephew, Braylon Johnson, who resided with them at the time of Michael's death.
Mr. Grider leaves to cherish his memory a loving and devoted wife of 39 years, Debbie Jones Grider of the home; three brothers, Tyrone (Dora) Grider, Curtis Grider and Keith (Yolanda) Crutchfield; one sister, Toni Lynn Eason, all of Little Rock. Also surviving are seven sisters-in law, Martha (Robert) Jones, Kansas City, Mo., Rita Reese of Little Rock, Marsha (Larry) Tyler, Cynthia Nichols, Patricia Treadwell, Leona Smith of Columbus, Ohio, and Teareathia Grady of Grover, S.C.; one brother-in-law, Lonnie (Bertha) Nichols of Harmony, N.C.; and a host of nieces and nephews, other relatives and friends, particularly the Chestnut Grove Baptist Church Family whom he loved very much.
Special thanks to Tyson Foods RVIC-Shift and the Women's Outreach of Chestnut Grove Baptist Church.
Funeral service for Mr. Michael Grider will be held at Chestnut Grove Baptist Church on Tuesday, November 19, 2019, at 11 a.m. with Reverend Dale Gibson doing the eulogy. Visitation will be from 10 until 11 a.m.
Rutledge and Bigham Funeral Home is serving the Grider family.