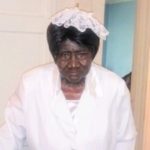 Mother Ruby Moore Gray was born on April 20, 1931, to the late Elder Rufus Moore and Overseer Henrietta Ross More. Mother Ruby is the elder sister of Lily Chapel's Overseer Barbara Moore Imes.
Born and raised in Statesville, N.C., Mother Gray attended school in the Iredell County Public School system and graduated from Morningside High School.
She married Wade Franklin Gray in 1952. He preceded her in death, along with a son, Robert Charles Gray. Mother Gray is the proud parent of nine children, Elwanda Young of Brooklyn, N.Y., Susan Gray of Charlotte, N.C., Elaine Woodberry of Homestead, Fla., Leroy Pressley of Queens, N.Y., Marion Pressley of Atlanta, Ga., Linda Pressley of Long Island, N.Y., and Patricia Preesley and Sylvia Jackson, both Statesville.
Before retiring and returning to her home in Statesville, Mother Gray was a successful and highly respected businesswoman. She owned and operated a neighborhood grocery store for over 20 years. Her generosity and kindness made her beloved by community residents.
Funeral service will be held at Lilly's Chapel in Statesville on Sunday, November 17, 2019, at 2 p.m. Visitation will be from 1 to 2 p.m. and burial will be in the Belmont Cemetery.
Rutledge and Bigham Funeral Home is serving the family of Mrs. Ruby Moore Gray.