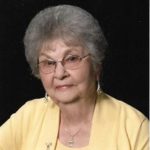 Thelma Elizabeth Miller Brown, 97, of Statesville, N.C., passed away peacefully surrounded by her family, on Sunday, November 24, 2019.
She was born in Iredell County on May 27, 1922 to the late John D. Miller and Bessie Bunton Miller. She was also preceded in death by her husband, Hubert Harrison Brown; a son, Melvin H. Brown; five brothers and one sister.
Thelma was a graduate of Central High School and a member of Front Street Baptist Church, where she attended the Young At Heart Senior Group. She also was a member of the Senior Friends at Davis Hospital and a member of the YMCA, where she enjoyed swimming classes. Thelma loved to travel but most of all she loved spending time with her family.
Survivors include two sons, Richard Brown (Teresa) and Steven Brown (Vickie), both of Statesville; two brothers, Dean and Tony Miller; and one sister, Juanita Sloan. She is also survived by eight grandchildren, 10 great-grandchildren, two great-great grandchildren and a very special friend, Mary Bottoms.
A funeral service will be held on Wednesday, November 27, 2019, at 11 a.m. at Nicholson Funeral Home Chapel with Rev. Tim Stutts officiating. Burial will follow in Iredell Memorial Gardens Cemetery. The family will gather and receive friends from 10 to 11 a.m. prior to the service at the funeral home. Other times the family will gather at the home of Steve and Vickie Brown.
Memorials may be made to the Front Street Baptist Church, Lottie Moon Mission Fund, 1403 W. Front Street, Statesville, NC 28677.
Fond memories and condolences may be left at www.nicholsonfunerals.com. Nicholson Funeral Home is serving the Brown Family.