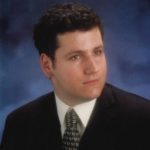 Adam Christopher Perez, born April 15, 1991, at Overlook Hospital, Summit, N.J., took his final journey to meet our Lord and maker on January 23, 2020. He is the son of Dr. Jose Eduardo Perez and Anna Maria Patetta of Mooresville, N.C. He was preceded in death by his Nonno and Nonna Euplio Patetta and Concetta Russo. We know that he is being taken well care of by his grandparents.
He is survived by three brothers, Jose Paolo Perez of Tampa, Fla., and Marc James Perez and his wife Elisa Decker, along with his nieces, Frankie and Vali of Manaswakin, N.J., and Carl Alexander Perez of Mooresville, N.C. He is also survived by his grandparents, Eduardo Jose Perez and Susel Perez; Aunt Digna Cedeno, Pablo Cedeno and cousins, Eric, Paul, Michael and Edward; Aunt Zuzel Martin and cousins, Zuzelin and Nanette; Uncle Eduardo Perez and Amaryllis Perez; cousins, Edward and Daniel; Uncle John and Gail Patteta; cousins, Michael and Matthew; Aunt Michellina Patetta; and cousins, Krystina and Sophia.
Adam grew up in Tampa, Fla., as his family moved there when Adam was 3 months old. He is a graduate of Tampa Catholic High School. Although Adam played organized sports throughout his life, his passion was knowledge. He attended several universities, including Ole Miss, University of Pittsburgh, UNC Charlotte and Johns Hopkins, but he found his home at Appalachian State University, where he graduated. His last position was in internet sales. He was handsome, brilliant, funny, helpful and caring of all those around him. He was a great son, brother, grandson and friend. Adam, you will always be in our hearts. Until we meet again, peace to you and to all may God bless you.
Visitation for family and friends will be on Sunday, January 26, from 5 to 8 p.m. at Cavin-Cook Funeral Home. A Mass of Christian burial will be on Monday, January 27, at 10:30 a.m. at St. Therese Catholic Church. Entombment will follow at Iredell Memorial Gardens.
Memorials may be made to Johns Hopkins University Department of Psychiatry and Behavioral Science, Attn: Karen Hussey, Director of Development Funds for Johns Hopkins Medicine, 550 Broadway, Suite 914, Baltimore, MD 21205 or St. Jude Children's Research Hospital, 501 St. Jude Place, Memphis, TN 38105.
Cavin-Cook Funeral Home and Crematory, Mooresville, is serving the Perez family. Condolences may be sent to www.cavin-cook.com.