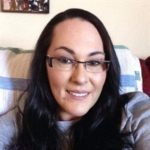 Angela "Angie" Marie Sigmon, 39, formally of Statesville, N.C., passed away unexpectedly on July 4, 2020.
Born in Statesville on March 24, 1981, she was the daughter of Martha Barnes Olmes and Marvin Sigmon. Angie was a loving, caring and supportive mother, daughter, and sister. She enjoyed cheering at football games, signing karaoke, gardening, and helping others. She liked going to the beach and was active in her church.
In addition to her parents, left to cherish her memory are her sons, Rodney and Joshua Miller; brothers, David (Elizabeth) Sigmon, Nathan Sigmon and Andrew (Erika Hooper) Sigmon; and sister, Sharon Sigmon, along with numerous nieces, nephews and friends who will miss her dearly.
A service to celebrate Angie's life will be held on Friday, July 10, 2020, at 7 p.m. in the chapel of Nicholson Funeral Home.
Memories and condolences may be left for the family at www.nicholsonfunerals.com. Nicholson Funeral Home is honored to be serving the Sigmon Family.