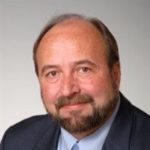 Robert William Steinberg, 60, passed away peacefully on Tuesday, July 7, 2020, at Novant Health Huntersville Medical Center. After a long battle with cancer, he chose to rest in the late afternoon.
He was born on October 25, 1959, and graduated from Wheeling High School in 1978. He then proceeded to study engineering at Purdue University. Afterward, he had a storied career working with the folks at Ingersoll Rand, Elliott, and as a private business consultant in his later years.
The only thing that Bob Steinberg loved more than his work was his family and friends. Bob was a beloved member of his community and his church. In his own words, "I can't think of anyone I don't know." To Bob, there never were any strangers, only potential friends.
Bob is survived by his sons, Robert (Katie) and Tyler (Kristin) Steinberg; his brothers, Steve (Donna) and Tim (Sandy) Steinberg; his parents, Barbara and Robert Steinberg; and his granddaughter Eleanor. He is also surrounded by an enormous loving family consisting of cousins, nieces, nephews, in-laws, and many more.
In lieu of a service, Bob's family has requested any donations or support be sent to St. Jude Children's Research Fundraising Office in Charlotte, N.C. Their website and donation link can be found at https://www.stjude.org/.
A memorial will be held at a later date. For more information please contact BobSteinbergMemorial@gmail.com.
Cavin-Cook Funeral Home & Crematory, Mooresville, is serving the Steinberg family. Condolences may be made to the family at www.cavin-cook.com.