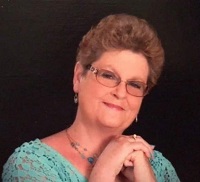 On Saturday, August 15, 2020, Angelia Crater Templeton woke up in her Heavenly Father's arms!
Angelia was retired from ICSS and then began caregiving. She loved her church family, J.C. Depew and his family. She loved her friends and family and her long-time companion Daisy Mae, her four-legged daughter, who we had to put down two days before our mommy's home going.
Angie was preceded in death by her late husband, Joseph Templeton, and her father, Rev. Paul Crater.
Angie has let behind the loves of life, her precious God-fearing mother, Martha Crater; the apples of her eyes, Joel Cass (Angie), Jonna Everidge (Gary), Laura Reep (Derek), and Greg Templeton (Deborah), along with numerous grandchildren, great grandchildren and nieces and nephews.
She has also left behind siblings, Ricky Crater (Robin), Danny Crater (Carole), and Greg Crater (Gayle).
A celebration for Angelia's Life will be held Saturday, August 22, 2020, at Way of Life Full Gospel at 2 p.m. Any memorials may be made to the family.
Bunch-Johnson Funeral Home is serving the family.