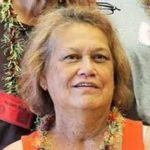 Anita Linda Baker Fitzgerald, 79, of Statesville, N.C., died February 2, 2020, at her home. Born in the Territory Of Hawaii on January 28, 1941, she was the daughter of Charles Kahalehili Baker and Margaret Rowe Baker.
Linda was a beautiful gift given at birth to her dearest Uncle and Anty. In Hawaiian culture and custom, hanai is a gift of love and an honor to both families. The closest tradition to this in the Western culture is adoption. Linda then became the link that bridged two brothers' families into one.
She was preceded in death by her husband, Don, her hanai'd parents, Edward and Anita Linda Baker, and her birth parents, Charles and Margaret Baker of Honolulu, Oahu, Territory of Hawaii.
She is survived by four daughters, Benita Chung, Tammy (Jamie) Waiwaiole, Rene Fitzgerald, and Lani Fitzgerald; a son, Donald Fitzgerald Jr., 12 grandchildren and 19 great grandchildren.
A funeral mass will be held at 11 a.m. on Thursday, February 6, at St. Philip The Apostle Catholic Church.
Fond memories and expressions of sympathy may be shared at www.nicholsonfunerals.com.
In lieu of flowers, please donate to The Foundry House, https://foundryofhope.org/. Please use https://foundryofhope.org/contact-us. To write a check to our 501(c)3, The Foundry Of Hope, you can put The Foundry House in the memo line of the check.
Nicholson Funeral Home is serving the family.