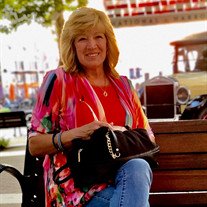 Jennifer Alice Brown Kingsley, age 57, passed away peacefully in her home in Mooresville, N.C., surrounded by loving family and friends on Monday, February 3, 2020. Jenn was born May 27, 1962, to Lynwood and Mary Brown.
In 1993, she married the love of her life, Glenn R. Kingsley. She is survived by her heartbroken husband and children, Samara Di Scala (Joseph), Ethan "Boomer" Kingsley, and Spencer Kingsley. Also surviving are grandchildren, Sloane and Victoria Di Scala, brother David Brown, and sisters Rhonda Brophy, Terry Sullivan (Thomas) and Coreen Brown, along with countless grieving friends in Mooresville and on Facebook.
Jenn was an extraordinarily multi-talented woman. There was never a challenge she couldn't meet, never a problem she couldn't solve, never a tear she couldn't dry, never a person in need she wouldn't support.
Jenn faced the challenge of her illness with astounding bravery and spirit. Such was her selflessness; it was usually Jenn providing the comfort for heart-broken family and friends.
A service for Jennifer will be held at Cavin-Cook Funeral Home, 494 E. Plaza Drive, Mooresville, NC 28115 on Thursday, February 6, 2020, at 7 p.m. All are invited. The family will receive friends from 5 to 7 p.m., prior to the service at the funeral home. The burial will take place in West Chester County, N.Y., at the family burial site.
In lieu of flowers, please consider making a contribution to the Brody Thompson Memorial Fund, P.O. Box 531, Mooresville, NC 28115.
Cavin-Cook Funeral Home is serving the family.