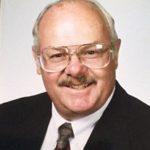 Antal G. "Tony" Oszlanyi, 80, of Mooresville, N.C., passed away on Monday, March 9, 2020, at his residence with his wife by his side. He was born January 14, 1940, to the late Professor Robert and Jolan Oszlanyi in Budapest, Hungary. In addition to his parents, he was preceded in death by his sister, Eva Domonkos, and his beloved white German shepherds, Blondie, Bailey and Sugar.
Tony immigrated to the United States from Hungary with his parents and sister in 1951. He was a graduate of St. Ignatius High School in Cleveland, Ohio, and Florida State University. He served his country in the U.S. Army and was honorably discharged as a Captain. Tony had a long and successful career in the Bakery and Science Management field. He was a former Vice President at SAF Products Corporation. Tony was a member of the American Society of Baking Engineers and American Association of Cereal Chemists. He retired in 1998 and continued to work as a consultant for the next 14 years. He served on the EnergyUnited Board as Vice President.
Tony loved to play golf and travel, and he had a good sense of humor with a touch of sarcasm. Before his illness, Tony volunteered at Council on Aging and played Santa Claus at a local nursing home. Tony was also an active member of The Warrior Golf Club and St. Therese Catholic Church.
Tony is survived by his wife of 50 years, Ava-Marie; his daughters, Ava (Sean) Alexander, Anne (Robb) Tatham and Amy Woodward; and his grandchildren Katy and Chase Tatham, and Brooke and Will Woodward. He is also survived by many nieces and nephews.
Services will be held on Monday, March 16, at 1 p.m. at St. Therese Catholic Church in Mooresville with Reverend Mark Lawlor officiating. A reception will follow the service at the church. In lieu of flowers, donations may be made to St. Therese Catholic Church, 217 Brawley School Road, Mooresville, NC 28117.
The family sends a special thank you to Reverend Mark Lawlor and his physical and occupational therapists, Jigar and Nita, as well as all his good friends who supported him during this difficult journey.
Cavin-Cook Funeral Home and Crematory, Mooresville, is serving the Oszlanyi family. Condolences may be sent to the family at www.cavin.cook-com.
May God grant his eternal soul peace.