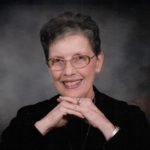 Barbara Ann Christopher Honeycutt, 85, of Statesville, N.C., passed away on Tuesday, March 3, 2020, at Iredell Memorial Hospital.
Mrs. Honeycutt was born October 5, 1934, in Statesville and was the daughter of the late Roy R. Christopher and Beulah Welborn Christopher. She was a graduate of Statesville Senior High School and Charlotte Memorial Hospital School of Nursing. On November 10, 1956, she married Lathern "Pete" Honeycutt, who survives. They were members of Troutman Baptist Church, where she was a children Sunday School teacher for 22 years, treasurer and choir member. She was a Registered Nurse, having practiced for JB Henniger, M.D., for 27 years and was a member of the Troutman Fire Department Ladies Auxiliary.
In addition to her husband of 63 years, she is survived by two daughters, Teresa McCurdy (Rodney) of Statesville and Traci Honeycutt of Statesville two grandchildren, Isaac McCurdy (Katie) of Stony Point, Anna Crouch (Daryl) of Statesville; three great grandchildren, Sarah McCurdy of Stony Point, Brantley McCurdy of Stony Point, and Piper Crouch of Statesville; and one brother, Roy L. Christopher of Statesville.
Funeral services will be held at 2 p.m. on Saturday, March 7, 2020, at Troutman Baptist Church with Rev. John Stevenson and Rev. Dr. J.B. Parker Jr. officiating. Burial will follow in the Iredell Memorial Gardens Mausoleum. The family will receive friends on Saturday from 12:30 to 1:45 p.m. at the church.
Memorials may be made to Troutman Baptist Church and online condolences may be made to the family at www.troutmanfuneralhome.com
Troutman Funeral Home is serving the family.