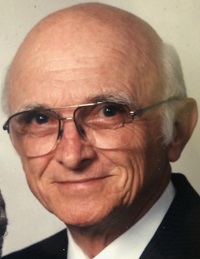 Mr. Ben Gordon Mayfield, 92, of Troutman, N.C., passed away Monday, April 27, 2020, at his residence.
Mr. Mayfield was born June 19, 1927, in Charlotte and was the son of the late Ben Grogan Mayfield and Lois Brown Mayfield. He was a graduate of Troutman Schools and served in the U.S. Navy. On January 21, 1949, he married the late Helen Harris Mayfield, who passed away on November 16, 2019.
Gordon was a member of New Perth ARP Church, where he served as a Deacon and Elder. He was the owner of Troutman Grocery Store, then in 1987 he retired from Troutman Industries, served on the Troutman Fire Department for 20 years and also was a Troutman Town Council Member for eight years.
He is survived by three children, Melton Gordon Mayfield and wife Joanie of Lancaster, S.C., Brenda Mayfield Morrow and husband Rick of Troutman, and David Harris Mayfield and wife Angie of Mooresville; seven grandchildren, Ray Mayfield, Krista Lanning, Chad Morrow, Chasney Morrow Diem, Charles Morrow, Spencer Mayfield, and Ben Mayfield; nine great grandchildren; and two sisters, Betty Brawley (Bobby) and Carole Garrison (GW).
A memorial service will be held at a later date with a private family burial at New Perth ARP Church Cemetery.
The family would like to give a special thanks to Gordon's granddaughter, Chasney Morrow Diem, with Dudley Home Health for her care.
In lieu of flowers, memorials may be made to the Troutman Fire Department, P.O. Box 22, Troutman, NC 28166 and online condolences may be made to the family at www.troutmanfuneralhome.com.
Troutman Funeral Home is serving the family.