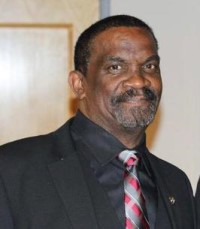 Mr. Bernard Lewis Davidson, 70, of Statesville, N.C., departed this life on Tuesday, December 15, 2020, at Iredell Memorial Hospital. He was the son of the late Claude and Nannetta Lonon Davidson.
Bernard was a 1969 graduate of Statesville High School. During his years of high school, he was a member of the drama club, basketball team, and the Statesville High School Grenadier Marching Band. North Carolina chose the Grenadier Marching Band to be in the 1969 Presidential Inauguration Parade in which Bernard participated. Bernard retired from Wm. T. Burnett & Co. after 28 years of service.
He was a lifetime member of Scotts Chapel UMC, where he served as Chairperson of the Trustees, President of United Methodist Men, Sunday School Superintendent, and a member of the choir. He was instrumental in leading the renovation of Scotts Chapel United Methodist Church. He was loved dearly by his church family and community. Bernard's favorite hobby was cruising in his 1966 Chevy Truck, which he named "Ol' Blue."
In addition to his parents, he was preceded in death by his paternal grandparents, Claude and Sally Davidson; and maternal grandparents, Willie and Nannetta Lonon.
Bernard is survived by his loving wife of 55 years, Barbara; five children, Vincent Davidson (Amy), Coleman Davidson (Jamie), Robin Witherspoon, Derrick Parrott and Tina Tolbert. Bernard and Barbara have fourteen grandchildren, Vincent Andrew, Matthew, Ashley, Akasia, Haley, Rasheed, J'Kyla, Elizabeth, Jada, Saniah, Cameron, Raven, Damien, and Tierra; and eight great-grandchildren, Caleb, Calaya, Jaidence, Ryan, Cassie, Ryland, AJ, and Angel.
He had four brothers, Willie Davidson (Selina); Michael Davidson (Tuwana), and Glenwood Davidson (Zoine), all of Statesville, N.C., and James Davidson (Thwanda) of Seneca, S.C.; two sisters, Claudia Tatum (Jerry of Greenville, S.C., and Gloria Wilson of Troutman, N.C.; an aunt, Mary Davidson; a God Sister, Joyce McCall; special friends Cecil Horne and Vermel Moore; and a host of nieces, nephews, cousins, church family, other relatives and friends.
Graveside Celebration Services will be conducted on Wednesday, December 23, 2020, at 1 p.m. at Belmont Cemetery, Statesville. Elder Christopher Daniels will officiate and Minister William Brawley will be the Eulogist.
There will be no public visitation due to COVID-19. You can only enter the funeral service with a funeral pass, which will be given to the family.
A general public viewing will be held on Tuesday, December 22, 2020, from 1 until 6:30 p.m. and resume Wednesday, December 23, 2020, from 9 a.m. until 12 noon. You can also view Mr. Davidson's remains virtually on-line at www.youtube.com (search Bernard Davidson Viewing).
Visit the Book of Memories for Bernard Davidson at www.rutledgeandbigham.com. Rutledge and Bigham Funeral Home is serving the Davidson Family.