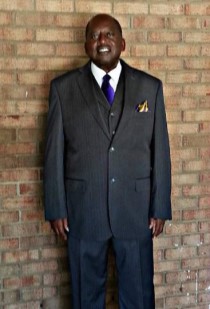 Mr. Charles Linzy Tenor, 77, was born September 3, 1943. He departed this life on December 19, 2020. Charles was the son of the late Luther Martin and Lucy Tabor Tenor.
Charles was a graduate of Unity High School, Class of 1961. He was a faithful member of Bristol Road Senior Citizens and the Owls and Owlettes Social Club of Statesville, N.C. He was well known for his hospitable personality that he portrayed faithfully. Anyone that needed him, sickness or otherwise, you could always depend on Charles to be there. His love for his family was priceless; no one could compare.
Charles was known for his great culinary skills. He worked at JC's Toot and Tellum as a cook for many years. He retired from Hunt Mfg. after 30 years and prior to his death he was employed at Rutledge and Bigham Funeral Home. He also served with the Volunteer Support Staff.
Charles was proceeded in death by two brothers, Leonard Tenor and James Tenor; two sisters Elizabeth T. Lackey and Gloria T. Scott; and his sisters-in-law, Mary F. Summers and Betty M. James.
Left to cherish his memory are his wife of 52 years, Brenda McHenry Tenor, sons, Charles Jason (Casey) Tenor, Ryan (Kim) Tenor Sr. of Statesville, N.C., and Brad (Tylenthia) Houpe of Kathleen, Ga.; three daughters, Dana T Hammond of Winston-Salem, N.C., Crystal Taylor (Larry) of Burlington, N.C., and Betty Ann T. Brandyburg (David) of Orangeburg, S.C.; his mother-in-law, Mary D. McHenry of Statesville, N.C.; one sister, Lavon T. Irvis of Statesville, N.C.; brother, Robert "Bobby" Tenor of Upper Marlboro, Md.; his grandchildren, Ramia (Richard) Gray, James Hammond, Perez Dixon, Jenee Tenor, Jason Tenor, Alexander Tenor, Seth Steensgard, Abagail Steensgard, David Brandyburg II, Daniel Brandyburg, Ryan Tenor Jr., Ashleigh L. Taylor, and Kennedy Tate; his great-grandchildren, Rylan W. Gray, Reagan W. Gray, Jaden Hammond, and Jade Hammond; his godsons, Reverend Patrick D. Tate and Michael Murdock; his brother-in-law, Jimmy (Sarah) McHenry; his sister-in-law, Cynthia M. Johnson; and his trustworthy friends, Michael McClelland and Flake "Chris" Huggins; and his "Uncle Hubert" (Ann) Moore; along with a host of nieces, nephews, aunts, uncles, cousins, and friends.
Celebration of Life Services will be conducted on Wednesday, December 23, 2020, at 10:30 a.m. at The Mary B. Bigham Memorial Chapel, Rutledge & Bigham Funeral Home, Revered Patrick Tate will officiate.
There will be no public visitation due to COVID-19. You can only enter the funeral with a funeral pass, which will be given to the family.
A general public viewing will be held on Tuesday, December 22, 2020, from 1 until 6:30 p.m. and resume Wednesday, December 23, 2020, from 10 a.m. until the funeral hour. You can also view Mr. Tenor's remains virtually on-line at www.youtube.com (search Charles Tenor Viewing).
Visit the Book of Memories for Charles Tenor at www.rutledgeandbigham.com. Rutledge and Bigham Funeral Home is serving the Tenor Family.