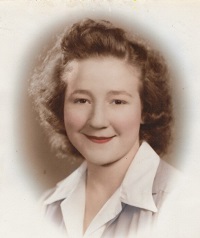 Bernice Harriet Jenkins McKown, 96, of Statesville, N.C., passed away, Wednesday, July 22, 2020 at Accordius Health in Brevard, N.C.
Mrs. McKown was born February 25, 1924 in Stony Point, N.C., and was the daughter of Rufus Carter Jenkins and Johnsie Morrison Jenkins. She was a graduate of Sharon High School in Iredell County and was married to the late Reese McKown. She loved her flowers, her family, her grandchildren and her dogs.
She is survived by one son, Lynn McNeese of Hickory; two grandchildren, Maury Jenkins of Statesville and Amy Jenkins Cummings of Mooresville; and four great grandchildren, Madison and Macy Cummings and Layton and Paxton Jenkins; and a daughter-in-law, Connie McNeese, who helped care for her for many years.
She was preceded in death by one son, Charles William McNeese; one daughter, Glenda Jenkins; and 11 siblings.
Graveside funeral services will be held at 11 a.m. on Tuesday, July 28, 2020, at New Salem UMC Cemetery with Pastor William Kanupp from Cornith Baptist Church in Vale, N.C. officiating. Mrs. McKown will lie in state at Troutman Funeral Home from 12 to 5 p.m. on Monday, July 27, 2020.
Memorials may be made to Hospice and Palliative Care of Iredell County and online condolences may be made to the family at www.troutmanfuneralhome.com.
Troutman Funeral Home is serving the family.