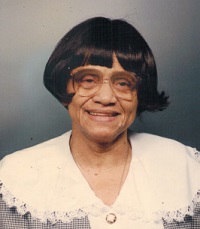 Mrs. Betty Jane Nichols Dobbins, 79, of 1724 East Cloaninger Avenue, Statesville, N.C., was born in Iredell County on August 26, 1940, and was the daughter of the late Lawson Nichols and Mary Jane Patterson Nichols. She departed this life at her home on Thursday, April 30, 2020, following a lengthy illness. She was preceded in death by a granddaughter, Tanya Nichols; and siblings, Marshall Nichols, Richard Nichols, Michael Nichols, Phyllis Nichols, Doris Nichols and Cecil Nichols. She was once married to James A. Dobbins.
She attended Unity High School and was a member of Holy Church of Christ. Prior to her retirement, she was employed as a seamstress.
She leaves to cherish the member of her life two sons, Charles Nichols and Vincent Nichols, both of the home; three daughters, Sherry (Michael) Wilson, Loretta (Curtis) Alexander and Michelle (Edward Summers) Jackson, all of Statesville; her siblings, Barbara (James) Gaither of Harmony, Shelia (Danny) Long of Troutman, Rhonda Nichols of Harmony, Ricky Nichols of Statesville, Gary Nichols of Salisbury, Carla Nichols of Statesville, Steven Nichols of Harmony, and Valarie (Emmanuel) Brown of Jonesville; five gradchildren, Christa Nichols, Curtis Nichols, Anthony (Seleicity) Nichols, Jalissa Redmond and DeShannon Redmond, all of Statesville; great grandchildren, Serenity Estorta, Messidh Nichols, Bryanna Nichols, Teonna Blackwell, Takaya Blackwell, LeAnna Dalton, Azoria Parks, Synijah Nichols, Anthony Nichols Jr., Zkhari Nichols, Nazir Nichols, Syniyah Nichols, Nalej Nichols, and Alijah Nichols; and a host of nieces, nephews, cousins, church family, other relatives, neighbors and friends.
Celebration of Life Services will be conducted Wednesday, May 6, 2020, at Rutledge and Bigham Funeral Home at 1 p.m. Pastor Jonita Byers Phifer will officiate and Rev. Emmanuel Brown will eulogize. Burial will follow in the Chestnut Grove Baptist Church Cemetery, Statesville, N.C.
There will be no public visitation. Unfortunately, with the COVID-19 crisis, Rutledge and Bigham Funeral Home, along with other funeral homes across the country, has been issued a mandate to limit the number of family and/or friends at funeral services. You can only enter the funeral with a funeral pass, which will be given to the family.
Rutledge and Bigham Funeral Home is serving the Dobbins family.