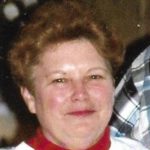 Betty Jean Barker Foster, 86, of Statesville, N.C., died Friday, June 5, 2020, at Heritage Place. She was born in Iredell County on December 30, 1933 to the late Cecil Barker and Lela Billings Foster.
She was also preceded in death by two sons, Frank W. Moore Jr. and Robert Moore; her first husband, Frank W. Moore Sr.; and second husband, Billy Foster; along with a brother, Don Barker; and sisters, Joyce Bell and Hazel McLelland.
Mrs. Barker loved to grow roses and loved her cat, Fuegal.
Those left to cherish her memory are a daughter, Debbie Sloan (Danny); four grandchildren, Angela Sloan, Landon Moore, Garth Moore, and Madison Moore; and three great-grandchildren and a brother, Joe Barker.
Graveside Services will be held Wednesday, June 17, 2020, at 11 a.m. at Iredell Memorial Gardens with Pastor James Lewis officiating.
Fond memories and condolences may be left at www.nicholsonfunerals.com.
Nicholson Funeral Home is serving the family.