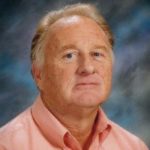 Michael Burton Bowlen, 77, of Mount Ulla, N.C., passed away on Sunday, June 7, 2020, at his residence.
He was born on December 9, 1942, in San Diego, Calif., to the late Gilmore and Luada Pritchett Bowlen. Mr. Bowlen was a veteran serving in the US Navy. He was a retired school teacher and a member of Christ Community Church in Mooresville.
In addition to his parents, he was preceded in death by a granddaughter, Heather McMillan.
He is survived by his wife of 33 years, Bonnie Stricker Bowlen; daughter, Tonja McMillan; step children, Amy Gibbons, Rebecca Wheeler, and H. Wayne Wheeler; sister, Sue Fenner; brothers, Norman Bowlen, Richard Bowlen, and Bill Bowlen; and 13 grandchildren and 10 great grandchildren.
A graveside service will be held at 11 a.m. on Wednesday, June 10, at Glenwood Memorial Park with Pastor David Teague officiating. For those who are unable to attend the graveside, you may go to the following link for the live stream https://www.facebook.com/CavinCookFuneralHomeServices/
In lieu of flowers, memorials may be made to Christ Community Church Mission Fund, 1745 Charlotte Highway, Mooresville, NC 28115.
Cavin-Cook Funeral Home & Crematory, Mooresville, is serving the Bowlen family. Condolences may be made to the family at www.cavin-cook.com.