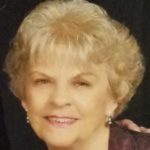 Beverly Graham Saunders of Mooresville passed from this life into eternal life on Tuesday, May 26, 2020. She was born on September 27, 1929, in Chicago, Ill., to the late Rev. Garret R. Graham and Lillian B. Graham.
Beverly graduated from Virginia High School in 1947. She is also a graduate of Mars Hill Junior College and Towson State College (now Towson University). In 1948, while a student at Mars Hill she met the love of her life, John E. Saunders. After a dating for a few months they were married on September 4, 1948. They were married for 71 years prior to his death in 2019. Mrs. Saunders taught first grade for many years in Baltimore, Md., and then worked at the Florida Baptist Credit Union in Jacksonville, Florida.
John and Beverly served in Christian ministry in Indiana, Maryland, Missouri, Florida and North Carolina. In retirement they moved to their home on Lake Norman in Mooresville in 1997. They enjoyed hosting family and friends at the lake. There were many happy occasions celebrated in their home on the lake with Beverly being a gracious hostess.
She was predeceased by her parents, her sister Anne Raynes, brothers Randall Graham and Mel Graham, and great-grandson TJ Johnson. She is survived by a sister; Norma Lis; daughter, Cathy Oldenburg (Jerry); son, John Jr. (Sally); daughter, Carla Enix (Jim); and daughter Carrie Holder (Derrick). Also surviving are grandchildren whom she loved very much and who loved their Grandma, Jennifer Greene (Ben), Kristin Kipp, Ryan Saunders (Crista), Amy Honeycutt (Taylor), Rachel Enix, Jacob Enix, Nicole Decker (Blaine), Jessica Holder and Deaven Holder; great-grandchildren, Ashley and Daniel Nibbana, Haley and Luke Saunders, and Merritt Honeycutt; and many nieces and nephews.
Mrs. Saunders spent lots of hours tending to the many beautiful flowers in her garden at their home on the lake. She never saw a weed that she didn't want to pull. Mrs. Saunders also enjoyed spending time with family, especially her grandchildren and great grandchildren. Her Christian faith and love for the Lord were a great testimony and example for all who knew her.
A Service of Celebration will be held on Saturday, June 13, at 11 a.m. at the Heritage House at Cavin-Cook Funeral Home, Mooresville. Prior to the service there will be visitation with the family at 10 a.m. at Cavin Cook Funeral Home. Officiating the service will be Dr. Jerry Cloninger, Rev. Ryan Saunders and Dr. John Saunders, Jr.
In lieu of flowers, contributions can be made to First Baptist Church Mooresville Building Fund, 150 South Church Street, Mooresville, NC 28115.
Cavin-Cook Funeral Home & Crematory, Mooresville, is serving the Saunders family. Condolences may be made to the family at www.cavin-cook.com.