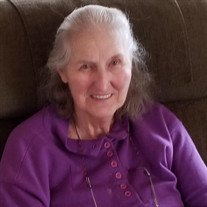 Carlas Ann Jeney Hatfield, 81, passed away at Iredell Memorial Hospital on Wednesday, September 9, 2020, after an extended illness. She was born Sunday, January 29, 1939, in Cook County, Ill.
She is the daughter of the late John Stephen Jeney and Annabelle Sotak Jeney. In addition to her parents, Carlas was preceded in death by her husband, Frank Hatfield. Carlas is survived by her son, Kenneth Hatfield of Statesville; and one grandson, Zachary Hatfield.
A Graveside Service will be conducted at 11 a.m. on Monday, September 14, 2020, at Mt. Hermon Lutheran Church in Statesville. Pastor Will Dulin and Tom Corbell will officiate. There will be no formal visitation.
Chapman Funeral Home is serving the family.