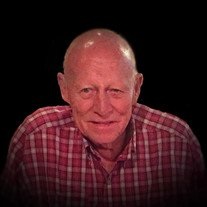 Fred Thomas Withers Sr., 73, of Statesville, N.C., passed away on Wednesday, September 9, 2020, at home after an extended illness. He was born on February 18, 1947, in Catawba County, the son of the late Jack Milton Withers and Bonnie Lee Rosenbalm Withers.
He worked for many years for Merchant Distributors Inc. (MDI) and was a member of Carsons Chapel United Methodist Church. He was an avid deer hunter and enjoyed flea markets and yard sales.
In addition to his parents, Fred was preceded in death by three brothers, Jack Milton Withers Jr., Franklin Dee Withers and Jerry Daniel Withers.
Fred leaves to cherish his memory his wife of 55 years, Doris Julia Rinck Withers of the home; one son, Tommy Withers of Statesville; two daughters, Julia Diane Johnson and husband Randall of Lincolnton, and Melissa Withers of Statesville. Also surviving are five grandchildren, Thomas, William and wife Mikala, Stephanie (Josh), Hannah (Tim), and Trae; seven great grandchildren, Journey, Kolby, Theory, Henry, Julia, Layton and Grayson; and his favorite furbaby girls, Trixie & Lacey.
A Graveside Service will be conducted at 2 p.m. on Sunday, September 13, 2020, at Bethel United Methodist Church in Statesville. Rev. Ray Tavenner and Rev. Jerry Ellis will officiate. The family will receive friends from 6 to 7:30 p.m. on Saturday, September 12, 2020, at Chapman Funeral Home. The family requests that everyone attending observe social distancing guidelines and wear a mask.
Chapman Funeral Home is serving the family.