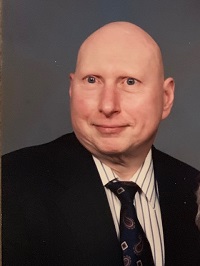 Charles "Buddy" Fisher Bolt, 83, of Statesville, N.C., passed away on Sunday June 14, 2020, at Autumn Care of Statesville.
Buddy was born February 11, 1937, in Iredell County and was the son of the late Charles Adolphus Bolt and Margaret Catherine Fisher Bolt. He attended Statesville City Schools and was a faithful member of St. John's Lutheran Church. He was retired from Iredell Memorial Hospital, where he worked for over 40 years.
Buddy was a member of the Daughters of the American Revolution and participated in Special Olympics. In his spare time, Buddy loved bowling with his "Happy Wheeler" bowling team, watching his favorite football teams (Washington Redskins & Carolina Panthers) and his Westerns, and painting. Fishing was a favorite pastime with his brother, Daniel.
He is survived by two nieces, Debra L. Bolt-Rust (Randall) and Sandra Bolt (Warren Weeks), both of Tallahassee, Fla.; and four great nieces and nephews, Samuel (Arlington, Va), Gabriel, Mary Ruth and Charles Rust of Tallahassee, Fla. He is also survived by several cousins, Mary Deaton of Statesville and Lura Deaton McMurray of Mt. Pleasant, S.C., and William, James, John G. and Elizabeth, children of Lura; and cousins, Johnny Bolt and Julie Bolt of New York City, N.Y. Buddy was preceded in death by one brother, Daniel Lawson Bolt.
Graveside services will be held at 2 p.m. on Saturday, June 20, 2020, at Oakwood Cemetery with Pastor Ernie Sheldon officiating. The family will receive friends following the service.
Memorials may be made to St. John's Lutheran Church, 740 N. Center Street, Statesville, NC 28677 and online condolences may be made to the family at www.troutmanfuneralhome.com.
Troutman Funeral Home is serving the family of Charles "Buddy" Fisher Bolt.