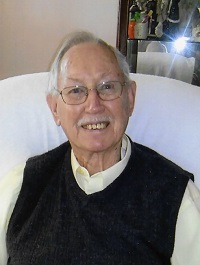 Mr. Frank Willis Patterson, 93, of Statesville, N.C., passed away on Sunday, June 14, 2020, in Fort Wayne, Ind., due to complications from COVID-19.
Mr. Patterson was born March 20, 1927, in Tichnor, Ark., and was the son of the late William Elmore Patterson and Fanny Mae McCollough Patterson. He attended schools in Arkansas and served in the U.S. Navy during WWII. He was married to the late Florence Elizabeth "Lib" Patterson, who passed away on November 23, 2018, and they were members of Christ Boulevard UMC. He was retired from John Boyle & Co. and was a member of the VFW Post 2031 for over 40 years. He loved dancing, reading, learning, writing his biography, his Bible, and his country, and he was the family historian.
He is survived by five children, Bill Patterson, Roggie Patterson (Kathy) of Statesville, Monette Tadlock (Kenny) of Statesville, Angela Horton (Chris) of Ind., Melissa Patterson (fiancé' Patrick Stilner) of the home; six grandchildren, Emily Sweeney, Sherrie Earwood (James), Thomas Warren (Christy), Stacey Flouton (Matthew), Laura Weikart (Cameron), and Wil Horton (Anna); 16 great grandchildren and two great great grandchildren.
In addition to his wife, he was preceded in death by one son, Joe Anthony Patterson; two grandsons, Eric Willis Patterson and Travis Anthony Warren; one brother, three sisters, three half brothers and numerous nieces, nephews and cousins.
Funeral services will be held at 2 p.m. on Friday, June 19, 2020, in the Troutman Funeral Home Chapel with Rev. Larry Thompson officiating. Burial will follow in Oakwood Cemetery with military honors. Mr. Patterson will lie in state from 1 to 2 p.m. on Friday at Troutman Funeral Home. Active pallbearers will be Thomas Warren, Evan Warren, Matthew Flouton, Randy Baggarley, Austin Baggarley, James Earwood and Donnie Poole. Travis Flouton will be a honorary pallbearer.
In lieu of flowers, memorials may be made to VFW Post 2031 and online condolences may be made to the family at www.troutmanfuneralhome.com.
Troutman Funeral Home is serving the family.