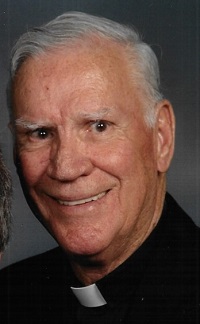 Charles Lee "Chuck" Brantley Sr., 89, of Statesville, N.C., passed away peacefully on Thursday, February 27, 2020, at the Gordon Hospice House.
He was born on March 24, 1930, in Rock Hill, S.C., to the late John Givens Brantley and Cordie Alice Helms Brantley. He graduated from Benton Heights High School in Monroe, N.C., and served four years in U.S. Air Force. On November 20, 1954, he married Shirley Ann "Mickey" Dowd Brantley, who survives.
He was the owner and operator of Brantley Dental Laboratory in Statesville for 60 years. He was a former member of Statesville Jaycees, Exchange Club of Statesville, Statesville Moose Lodge and the Knights of Columbus. Chuck was a member of St. Philip the Apostle Catholic Church, where he was a Permanent Deacon, which allowed him to perform Baptisms, Marriages and Funerals. He and his family enjoyed boating and fishing on Lake Norman and family beach trips to Oak Island.
In addition to his parents, he was preceded in death by two sons, Daniel Brantley and Charles "Chad" Brantley Jr.; a daughter, Judith Ann Brantley; and two grandsons, William and Thomas Harwell. Two brothers, J.C. and Richard Brantley also him preceded in death.
He is survived by his wife of 65 years, Shirley Ann "Mickey" Dowd Brantley; seven children, Theresa B. Kindley (Ken) of Lincolnton, N.C., Lisa B. Onley (Ken) of Statesville, Alice B. Harwell (Terry) of Statesville, Peggy B. Bolens (Ricky) of Sandy Ridge, N.C., Andrea B. Faw Faust (Stephen) of Union Grove, Laura B. Haneline (Brandon) of Statesville and John Brantley of Wilmington, N.C. He is further survived by 13 grandchildren, one great grandson, and one brother, Eugene Brantley (Sue) of Monroe, N.C.
A Mass of Christian Burial will be conducted at 10 a.m. on Monday, March 2, 2020, at St. Philip the Apostle Catholic Church. Principal Celebrant is the Most Rev. Peter J. Jugis, Bishop of Charlotte, and Pastor Thomas Kessler will be Homilist. Burial will follow in Oakwood Cemetery. Active pallbearers will be his six sons-in-law. The family will visit with friends on Sunday from 6 to 8 p.m. at the church.
Memorials may be made to St. Philip the Apostle Catholic Church – Forward with Christ Building Fund, 525 Camden Drive, Statesville, NC 28677 and online condolences may be made to the family at www.troutmanfuneralhome.com
Troutman Funeral Home is serving the family.